Sponsored Cycle Ride in aid of local Cancer Memorial Trust
07/04/2002 10:58:20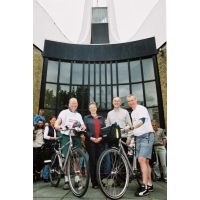 Lancaster student, George Easton, was remembered earlier this month (2/7/02) when Professor David Clark and Dr Jeremy Seymour completed their sponsored cycle ride between Sheffield and Lancaster.
George studied at Sheffield University where he was diagnosed with bone cancer, then at Lancaster University when he was in remission. A group of local cyclists including University Chaplain Stephen Hoyland and George's younger brother plus two of the friends who helped him with his own sponsored cycle ride from Lands End to John O Groats in July 2000 will accompany David and Jeremy for the last few miles.
George was a keen cycling fan, managing to cycle half way between Lands End and John O Groats a few months before he died so a sponsored cycle ride seemed an appropriate memorial and fund raiser.
The proceeds of the cycle ride will go to the George Easton Memorial Trust, which was founded by George's parents to provide help and support not only to young adults with cancer but also their families and friends. The Trust has already helped to fund research by Lancaster University lecturer, Dr. Anne Grinyer into the experiences of young adults with cancer from a parental point of view. A book based on this research is to be published by the Open University Press in Autumn 2002 and it is hoped that it will draw attention to the special problems of young adults and their families facing life-threatening illness. The idea for the ride came from David Clark, Professor of Medical Sociology at Sheffield University, who is also a series editor for the O U Press.