University Signs Global Games Deal
04/19/2007 10:29:09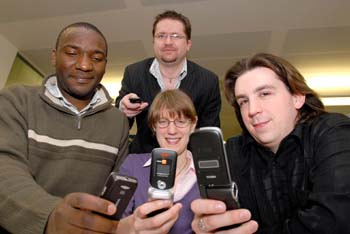 clockwise: Dr Paul Okanda, Dr Reuben Edwards, Andy Cunningham and Dr Elizabeth Phillips
A Lancaster University spin-out company has signed a deal to distribute 20 mobile phone games developed on campus to a worldwide market of millions.
The games are being marketed by North West firm GlobiGames Ltd in a deal which will see revenues ploughed back in the University.
The games were initially devised by Dr Reuben Edwards and Dr Paul Coulton of the Department of Communication Systems before being developed by their students along with recent graduates from the Graduate Academy at InfoLab21.
Both academics aim to provide students with commercial experience through the University spin-out company m-ventions Ltd, which was created to market mobile applications developed by students.
Dr Edwards said: "The significant thing is that this gives students the chance to get something direct to the market so it helps their confidence and they can put it on their CV. It's a great way of directly transferring the knowledge here at Lancaster out into business."
The games will be distributed online and via mobile phone portals. The first games to be released include Mobslinger, where players pretend to shoot each other with their mobile phone, Blue Air, an air hockey game, StickmanShootout, Mash-A-Mate, a reaction boxing game, and Msomnia, a game in which a puzzle has to be solved every 2 hours.
"We are developing a lot of games that are very unique, very advanced in terms of the technology and at the top end of development. And we are stream-lining the development process so we can push them into market as they're developed."
Students involved in developing the games will receive around a third of the revenue to the University providing a financial incentive and reward for the creation of innovative games.
Dr Elizabeth Phillips, who has just completed a PhD in Computing, worked on StickmanShootout as part of a project at the Graduate Academy.
She said: "I've never done anything like this before and it was an interesting experience because my emphasis so far has been on web development."
Andy Cunningham, who is doing an MSc in IT and Data Communications, developed a game called Seal Cull based on the fairground game of splat-the-rat.
He said: "I'd like to get into the games industry so this will be very useful. It was good to produce something and see an end result."
Dr Edwards said mobile phone games differ from computer games in several ways.
"Mobile phones are very personal yet social devices which connect you to other people so we're trying to develop games which have a social dimension where you can interact with people and objects in your current surroundings"
Both Dr Edwards and Dr Coulton are Forum Nokia Champions, an invitation-only programme which recognises the top mobile developers worldwide.