Student entrepreneur has got the magic touch
12/17/2009 12:36:45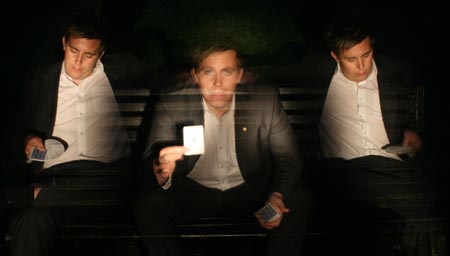 Magician Adam Dadswell
A Lancaster University student has cashed in on his passion for magic to launch his own business.
Adam Dadswell, who is in the third year of an MA in ICT and Media Communications, now combines his studies with part-time work as a professional close-up magician thanks to the help of Lancaster University Student Union enterprise unit Create. Create, which has helped launched student entrepreneurs into careers from cheerleading and photography to IT and web design, has recently won praise from Business Secretary Lord Mandelson for its pioneering work. And Adam is one of their latest success stories.
One of the youngest members ever to be accepted into the magic circle, Adam has already performed at parties, weddings and events across the North West and has got his sights firmly fixed on his dream gig – a celebrity wedding.
The 20-year-old from Ramsbottom, Lancashire, first got the magic bug aged 16 when he saw a street magician in Covent Garden and decided he had to learn for himself. Soaking up information from books and other magicians and practicing for up to four hours a day, Adam's repertoire expanded and it quickly became obvious that he had a natural talent.
Adam said: "When I approached Create I had already started doing events but they have really helped me focus on the business side of things, enabling me to take things to the next level. They have been able to give me advice on things from marketing to my business plan. We have all sorts of possible plans in the pipeline from magic lessons to a promotional DVD.
"When I first started getting paid for doing what I love I could hardly believe it. This year I even got to meet magician David Blaine and performed some magic for the actor Ralf Little
"The great thing about close-up magic is you aren't on TV or even on a stage - your audience are sat just feet away, so you get to make a connection with them and see their reaction first hand. It's brilliant.
"I enjoy doing this so much that I can't imagine there will be a time when I'm not involved in magic in some way."
Create Manager Joe Buglass said: "When we first met Adam we couldn't resist offering him some help. He had made such good progress on his business idea already that we knew he'd be great to work with. I'm sure he'll be really successful. Plus, he's always got a trick up his sleeve just in case you want an impromptu performance."
To find out more about Adam go to www.adamdadswellmagic.com