Student Scoops Prize
05/14/2004 10:43:26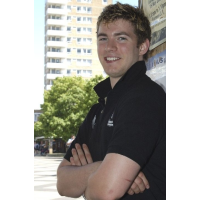 An inspirational Lancaster University student has scooped a £2,000 prize in a national graduate competition.
Third year religious studies student Nicholas Fernie has been chosen as joint runner up in the Real World magazine's graduate competition 2004.
The 22-year-old's achievements include overcoming illness and personal tragedy, acting as a press officer for the Amnesty International Society, working at and raising money for a local homeless shelter at Christ's Church, Lancaster as well as participation in the university's Faithshare programme.
Nicholas, who is the eldest of six brothers from Falmouth, Cornwall, has also organised numerous Student Union charity events while holding the positions of JCR sports and charity representative as well as being a course rep and contributor to Lancaster University student newspaper Scan.
Following graduation he hopes to work with Aboriginal people in Australia before returning to the UK next year to complete an MA in Ethics, Religion and Politics.
He said: "I didn't expect to get this far in the competition. A friend said I should enter and I didn't think much more of it. Then I got a phone call asking me to come to London for an interview. I was really pleased to discover I had won £2,000. The money will come in really handy to pay off my student debts and help pay for some of my ticket to Australia."
Head of the Religious Studies department Professor Ian Reader said: "This award is a well merited recognition for Nick's achievements. Nick has displayed real courage, dedication and commitment, and we in the Department of Religious Studies add our congratulations and are proud to have such a fine student as Nick in our Department."
The competition – the first of its kind, launched by graduate careers magazine Real World, in conjunction with PricewaterhouseCoopers and HigherInsight – is a celebration of student achievement over and above academic expectations.
Entrants were asked to provide examples of where they felt they had made a real difference, contributed to their community and overcome challenges.
Judges who assessed more than 200 applicants were impressed by the wealth of outstanding contributions made by competition entrants.
Tim Forster of PricewaterhouseCoopers said: "It was humbling to see how much these students had contributed to benefit other people over themselves."
Judges said Nicholas stood out for his modesty and the amount of time he had given up to helping others.