Lancaster student wins national Microsoft award
10/26/2006 09:54:17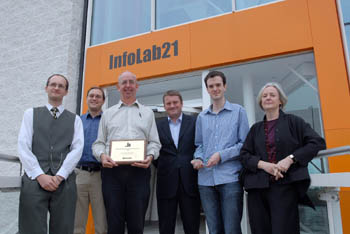 Dr Simon Lock, Dr Joe Finney, Prof Gordon Blair, Dr Andrew Sithers, Paul Clark, Prof Mary Smyth
The Microsoft Award for Student Excellence 2006 has been awarded to an undergraduate at Lancaster University for a novel project looking at how drivers' personalities affect traffic flow.

Paul Clark beat off stiff competition to emerge as the only student in the UK to win the prestigious award for his final year project. Microsoft executives travelled to campus to present him with a laptop and engraved trophy plus £1,000 and a commemorative plaque for the Computing Department.

Paul, who is doing a BSc in Computer Science, said: "I was shocked that I won and it's a great thing to put on my CV."

The national award recognises the most outstanding final year project developed by an undergraduate using Microsoft tools and technology. Paul's project involved a simulation of motorway traffic flow with the novel feature of factoring in the personalities of the drivers.

Dr Andrew Sithers from Microsoft's Academic Team said: "It was a good combination of excellent computer science, good writing and a practical application and that hits the sweet spot for Microsoft. We only make one award to a student in the UK each year and it's very impressive to see a project like this which combines so many elements and which can be carried forward into industry."

Paul's simulation replicates the behaviour of the Active Traffic Management System that is currently in use on the M42 motorway and included data provided by the Highways Agency.

He said: "My project looked at ways of setting speed limits and modelling traffic flow. I looked at the effects of drivers with different types of personality on the traffic flow. Boy racers, for example, drive differently from commuters and depending on the time of day, you have different commuters with different driving styles.I developed 15 variables for personality type looking at things like aggression and politeness which influences things like the speed at which drivers change lanes and whether they are likely to violate speed restrictions. All of this has an impact on traffic flow and traffic jams so it's useful for devising ways of managing the traffic."

His supervisor Dr Simon Lock said he was delighted at Paul's success.

"He deserved it because the project was excellent across all the categories – the programming, the background research, the writing up – and he went further than he needed to every step of the way."


The Head of the Computing Department Prof Gordon Blair said the award confirmed the department's excellent reputation.

"We're delighted that our best students are getting recognition from Microsoft and getting recognition nationally."

Paul was also congratulated by the Dean of the Faculty of Science and Technology, Prof Mary Smyth.


"I think it's really marvellous that the department is allowing students the opportunity to operate at this level and allowing them to realise that they have got enormous skills that organisations like Microsoft recognise."