Lancaster launches new Centre for Medical Education
01/03/2006 11:01:35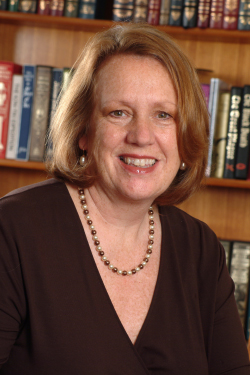 Professor Anne Garden, Director of the Centre for Medical Education at Lancaster University
Lancaster University will expand its teaching of medical students on campus in a new development which is likely to increase the number of doctors in North Lancashire and Cumbria.
The Higher Education Funding Council for England has announced 50 new medical student places for the University of Liverpool, all of whom will have their academic base at Lancaster University for the full five years of their undergraduate medical degree. The students will carry out all their clinical training in the University Hospitals of Morecambe Bay NHS Trust and primary care centres in North Lancashire and Cumbria.
This news, announced on the 26th January is the result of a collaboration between Lancaster University, the University of Liverpool, UCLAN, St Martin's College and the University Hospitals of Morecambe Bay NHS Trust. Lancaster University will be leading medical education delivery in Lancashire and Cumbria and will work towards future expansion of the course when opportunities arise in the future.
The students will follow Liverpool Medical School's highly regarded curriculum and will graduate with a Liverpool degree. Evidence shows that doctors who receive their training and education locally are more likely to remain in the area when they qualify so it is to be expected that this initiative will have a significant impact on health provision in this part of the country.
Professor Anne Garden has been appointed as Director of the Centre for Medical Education at Lancaster University. Professor Garden, a Fellow of the Royal College of Obstetricians and Gynaecologists, was previously Director of Medical Studies, Professor of Medical Education and Head of the School of Medical Education at the University of Liverpool. This is a joint appointment with the University Hospitals of Morecambe Bay NHS Trust and is one of a series of appointments that will be made to support this development.

Work is underway to create a Clinical Anatomy Learning Centre and other accommodation for the students on the Lancaster University campus, with an expanded Clinical Skills teaching facility being provided at the Royal Lancaster Infirmary.

Professor Paul Wellings, Vice Chancellor of Lancaster University said: "This is a very important development for the people of Lancashire and Cumbria and for Lancaster University. It enables the University to develop its expertise in research and teaching in health and medicine and to use that expertise to train doctors who are then likely to stay in the area. We are delighted to play a major part in this initiative in collaboration with the University of Liverpool and NHS Trusts."
Ian Cumming, Chief Executive of the University Hospitals of Morecambe Bay, said "This is excellent news and the culmination of many years collaborative working. The introduction of medical students into the local hospitals has been very successful and rewarding. The appointment of Professor Anne Garden, together with the new Centre for Medical Education, will enable us to build further on this success".

Also announced, was a joint bid from the universities of Liverpool, UCLAN, Lancaster and S Martin's College, for 32 extra graduate entry dental places in Cumbria and Lancashire.