Children learn about leadership
05/11/2005 11:35:43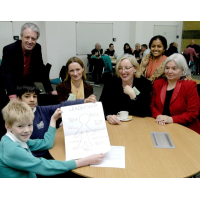 Primary School children visited Lancaster University Management School this week to ask top managers what leadership means to them.
The event was part of the two-day programme 'Engaging Communities in Leadership' to mark the launch of the Lancaster Leadership Centre.
Around 10, nine and 10-year-olds from Dallas Road Primary School, Lancaster met business and public sector leaders to ask a series of their own questions about leadership.
The primary school event on May 11 also included international speakers, who took part in the two-day programme.
They were Saleela Patkar from Bangalore who spoke on Leading community development amongst the rural poor in southern India and Linda Sue Warner, Tennessee Board of Regents, USA, who spoke on Different Ways of Leading: the Experience of Native American Indian Communities.
Pictured: Dallas Road School students Charlie Murray and Mohammed Khoda holding their leadership poster with (from left) Oliver Westall and Sarah Robinson (LUMS), Diane Mcgiffen ( Scottish Audit) Saleela Patkar (Myrada Group, Bangalore) who works with the poor in Southern India and Linda Sue Warner representing Native American Indian Communities in the USA.
Please follow link for a further photograph. http://domino.lancs.ac.uk/info/LUNews.nsf/I/E668344415344F0080256FFE003B2704