Schools celebrate Queen's Award for Lancaster University
03/03/2006 14:16:13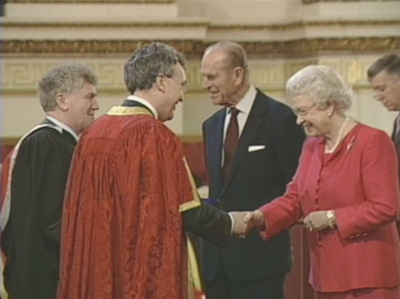 Mr John Gallagher, Professor Paul Wellings, Her Majesty The Queen and His Royal Highness The Duke of Edinburgh
School children from Lancashire and Cumbria went to Buckingham Palace this week to see Lancaster University presented with a special award from the Queen.
Lancaster University was awarded the Queen's Anniversary Prize for Higher & Further Education in recognition of the extensive regional broadband networks rolled out across Cumbria and Lancashire by the University's Information Systems Services Directorate.
Hundreds of schools, colleges, libraries and community groups have benefited from the initiative, which has seen sustainable, low-cost, high-capacity broadband networks delivered across the region.
This week pupils from Dolphinholme CE Primary School, Lancaster and Milburn School, Milburn, Penrith - two of the schools which have received broadband as a result of the project - were able to share in the celebrations at Buckingham Palace.
Her Majesty The Queen, accompanied by His Royal Highness The Duke of Edinburgh, presented the prize to Lancaster University Vice Chancellor Professor Paul Wellings and University Chancellor Sir Christian Bonington, at an honours ceremony at Buckingham Palace on February 16.
The University's Director of Information Systems Services John Gallagher and Professor Barry Forde, Head of Technical Services in ISS and chief architect of the network infrastructure, also attended the ceremony along with five Lancaster University students.
The Prize recognises the University's achievement in delivering the largest 'last-mile' regional broadband infrastructure in Europe – a particularly difficult challenge given that Lancashire and Cumbria is a dispersed, largely rural region with large areas of varied and mountainous terrain.
Groups benefiting from broadband networks developed by Lancaster University and its education and public sector partners are:
iUniversities, schools, colleges, libraries, museums, community and adult learning centres.
iResearchers and communities throughout the region who are linked to the University's very high capacity (10GbE) backbone network which runs from Carlisle in North to Cheshire in the South.
iLancaster University partners Cumbria Institute of the Arts, St Martin's College and Carlisle College, as well as other colleges and sites in the Region who benefit from state of the art network connectivity provided by Lancaster University as the lead site for the Cumbria and North Lancashire wide-area academic network (CANLMAN).
iThe network for the Cumbria and Lancashire Education Online (CLEO) Regional Broadband Consortium. With its County Council partners in Lancashire and Cumbria, the University has delivered a broadband network that has already hooked up over 1000 schools, including primary schools in Lakeland valleys and rural Lancashire. Remote schools such as these would either be beyond the reach of other commercial telecommunications networks or they could not afford the commercial charges.
The infrastructure of these networks is largely owned by the University and its public sector and education partners.
The Queen's Anniversary Prizes reward universities and colleges that demonstrate work of a world-class standard of excellence. The Prize is one of the highest honours a university can achieve.
Lancaster University Vice-Chancellor Professor Paul Wellings said: " This is an excellent achievement which brings together the research and technical capabilities of the University for the benefit of the public and private sectors in the North-West region, including the rural and upland area of Cumbria. There is immense scope for further development of the work in the near future."
Lancaster University's Director of Information Systems Services John Gallagher said: "The enduring achievement of the project is that through the partnership with Lancashire County Council and Cumbria County Council and others, we now have a public-sector owned and managed asset that delivers very high quality, high-speed broadband at low cost to its end-users."