Nationwide Expansion For Graduate Start-Up
12/04/2008 11:40:32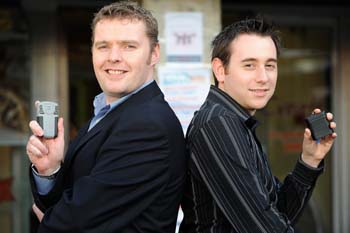 Duncan McCaffery and Matthew Summers
Two graduate entrepreneurs are to roll their technology business out across the UK after being inspired by Create, Lancaster University's business creation centre.
Matthew Summers and Duncan McCaffery have founded Insiris Ltd which offers advanced technology such as GPS mobile tracking of personnel and their vehicles. The computing graduates from InfoLab21 now have large investors interested and have a target of £100,000 turnover in the first year, with plans to recruit their own staff. They were both encouraged to become self-employed after attending workshops and a Dragons Den-style interview organised through Create.
Matthew graduated in 2006 with a BSc in Computing while Duncan recently gained his PhD in Computing. After working in industry together, they spotted a gap in the market and decided to leave their jobs to set up their own company.
Matt said: "I'm passionate about creating a market leading enterprise but we weren't sure how to go about it. We had a clear vision of what we wanted to do but we wouldn't have done this so quickly without Create."
They both attended Create workshops on everything from marketing to writing a business plan before appearing before a business panel who judged their idea.
Duncan said: "It was scary but it gave us confidence setting out our business ideas and it made us think hard about what we wanted to do. We came away with what they'd said ringing in our ears but it did help us make improvements."
They were awarded the maximum amount of funding which ultimately led to the creation of Insiris, a mobile tracking service which enables both staff and their vehicles to be tracked via GPS on a map.
Matt said: "Lots of businesses want to track where their staff are remotely, for example to make sure that social workers on a call are safe. The system we've developed can be customised to a particular business. You can even track their petrol consumption and whether they've stopped the car and got out."
The manager of Create is Joe Buglass who said: "Insiris has the potential to be the most successful company we've helped so far. There are some very large investors interested and they are ready to go national and international. It shows that if you have a viable business idea, you don't have to be Richard Branson to achieve it."
Create has so far awarded start-up grants totalling £14,000 as well as organising workshops and bespoke support. Twenty-four students have started their own businesses so far with a combined revenue of £130,000. Student demand has also increased with the workshops fully booked.
Create is delivered by Lancaster University Student Union and managed in partnership with Research and Enterprise Services.