Students Mentor Young Entrepreneurs
08/02/2007 15:34:47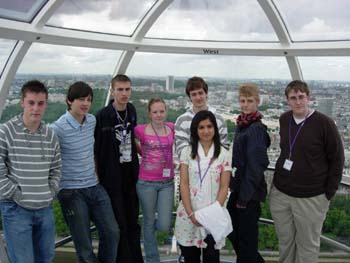 Voltage students on the London Eye
Student volunteers have accompanied school pupils from Lancashire on a visit to London with the aim of helping them become the social entrepreneurs of the future.

Sixth formers from three schools - Blackpool Sixth Form, Blackpool and the Fylde College and Carr Hill High School - were taken to London and challenged by Voltage to develop business ideas that could be of real community benefit.

Voltage is run by the Lancaster University Volunteering Unit and funded by v, the youth volunteering charity. The trip to London followed a term of in-school activity where pupils ran their own social enterprises in schools. They sold products and organised events for their friends, teachers and family, raising over £3,000 for local charities and community projects.

The challenge took the form of a two day residential trip during July. The pupils worked with Lancaster University volunteers to create a business idea that they could potentially run in their local area while also developing their leadership and entrepreneurial skills.

Their ideas were honed with the help of UK charity 'Speakers Bank' who facilitated sessions in public speaking, leadership and entrepreneurship. The keynote speaker was Cameron Saul of 'Bottle Top', a social enterprise supported by fashion company Mulberry and the hotel group Malmaison.

The trip culminated in pupils pitching their ideas to a panel of leading fund raisers from the Red Foundation, a not-for-profit social enterprise, and UnLtd. which supports social entrepreneurs. Pitches ranged from a campaign to make people aware of inequality in the football trade, a special needs dance group and a social inclusion initiative that will help rebuild lives through music.
Martha Jennings, Voltage Co-ordinator, said: "Our student volunteers worked extremely hard to make the trip run smoothly. Some of the school pupils had never been to London before, so the trip had a real excitement about it. The ideas the schools teams developed were exceptional and we are committed to helping the pupils if they want to make the business ideas they had in London become a reality."

Jamie Thomas of The Red Foundation said: "All three school teams had ideas that are quite able to apply for a grant and we hope they do apply as soon as possible. We've really enjoyed hearing the ideas which have been great, so congratulations to all the students."
One pupil said: "I really enjoyed the two days; I had lots of fun and learnt many skills which have made me more confident."