Arts Events
08/25/2006 13:43:01

LANCASTER ENVIRONMENT CENTRE

TIDAL TRAILS
Exhibition by Shelley Burgoyne

31st October 2006 – 19 January 2007
An exhibition of prints and large drawings in the Atrium Gallery.
Tidal Trails continues research with sea water droplet samples along with recent work following the artist'sartist's fascination with flora, marine life and its connection to our own lives.

Monday to Friday 9.00am – 5.00pm
Private View and meet the artist event
Wednesday 8th November 4.30-6.30pm


Lancaster Institute for the Contemporary Arts (LICA)

7 November

Re-Enchantment & Reclamation: New Perceptions of Morecambe Bay Through Dance, Film and Sound

Project Launch with John Fox & Stephen Powell
Re-enchantment and Reclamation is a two-year AHRC research project which aims to develop methods in dance, film, and the sonic arts for transforming the perceptions that communities have of the place to which they belong. In collaboration with artists and thinkers of international distinction, the project consists of 10 three-hour public lectures and 4 week-long workshops.
Institute for Advanced Studies, Meeting Rooms 2-3, 3 - 6 p.m

http://cle.lancs.ac.uk



The Peter Scott Gallery Exhibitions
9 October until 8 December 2006
Main Gallery
Eight Hours Difference

Studio, Turlock by Ian Kennelly, oil on canvas - Californian artist exhibiting in 'Eight Hours Difference'
An exhibition by eight artists who have a recent association with the Art Department of California State University at Stanislaus in the Central Valley of California, USA, will be on display in the Main Gallery from 9 October until 8 December. Artists represented include John Barnett, Dean De Cocker, Jessica Gomula, Ian Kennelly, David Olivant, Roland Reiss, Gordon Senior and Eleanor Wood.
Five of the artists are American and three are English artists who have moved to California to work for the State University and to develop their own art practice. Although the artists' works are very different, each individual is concerned with exploring aspects of the human condition. The show includes installations, prints, mixed media works, sculptures and paintings.
The exhibition is part of an exciting exchange project between California State University and Lancaster University. Works by artists associated with the Art Section of the Lancaster Institute for the Contemporary Arts (LICA) at Lancaster University will be exhibited this month at California State University Art Gallery.
********************

Manton Room
Botanical Illustrations

Study of an orchid by John Chambers, watercolour on paper, from 'Botanical Illustrations' exhibition in the Manton Room
A selection of botanical illustrations from Lancaster University's collections will be on display in the Gallery's Manton Room. The exhibition will include exquisite hand coloured engraved prints and rare books from Lancaster University Rare Book Archive. Works from the Peter Scott Gallery's collection will include watercolour studies by John Chambers (1869-1945) - Chief Designer at Pilkington's Tile & Pottery Company during its Golden Era - from the Chambers Archive, Chinese paintings and prints and modern botanical works from the Irène Manton Collection


Maiolica Ceramics
An impressive display of Italian Maiolica ceramics from the fifteenth and sixteenth centuries will be on show in the Gallery's Ceramics Case. The exhibition will provide a rare opportunity for the public to see these fine ceramics, which are on loan from a private collection.


For further information please contact Lauren Humphries at the Peter Scott Gallery:
Lauren.humphries@lancaster.ac.uk
Tel: 01524 592229

Lancaster International Concert Series

9 November, 7.30pm

The Dufay Collective
The Art Of Minstrelsy
Meet the Artist: 6.45pm

Tickets: £14, £11.50 (£11.50, £9 concessions) young person £5.50
**********

16 November, 7.30pm
BBC Philharmonic
Andris Nelsons conductor
Alban Gerhardt cello

Beethoven Overture, Leonora No.3
Shostakovich Cello Concerto No.1
Sibelius Symphony No.2
Tickets: £17.50, £14.50, £11.50 (£14.00, £12.00, £9.50 concessions), £5.50 young person
**********

23 November, 7.30pm


Alan Barnes with Excess Prophet

The UK's premier jazz star Alan Barnes (saxes) is joined by Excess Prophet in an exhilarating concert of modern jazz, swing, latin, bebop and ballads.
Tickets: £14, £11.50 (£11.50, £9 concessions) young person £5.50
**********
30 November, 7.30pm
Paul Lewis • Piano

Beethoven Piano Sonata No.22 in F
Beethoven Piano Sonata No.13 in E flat,
'quasi una fantasia'
Beethoven Piano Sonata No.14 in C sharp minor,
'Moonlight'
Beethoven Piano Sonata No.4 in E flat, 'Grande Sonate'
Meet the Artist: 6.45pm
Tickets: £14, £11.50 (£11.50, £9 concessions) young person £5.50
BOX OFFICE: 01524 594151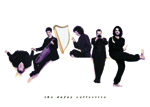 dfsdfsdfdf

Song And Dance From Medieval Europe


The Hesketh Collection: Works of ornithology, history, botany and literature from Audubon to Shakespeare.
Ruskin Library From 30th September - 22nd December 2006
Open throughout the year - admission free. Monday-Saturday 11am - 4pm, Sunday 1pm - 4pm
Enquiries Tel. 01524 593587
**********
Connections : Literature, Birds & Botany: Items from Lancaster University Library complementing the Hesketh Collection exhibition in the Ruskin Library.
From 25th September - 22nd December 2006 in Lancaster University Library
For details of opening times see: http://libweb.lancs.ac.uk/open.htm or telephone 01524 592517