Staff Prizes
07/06/2005 14:57:21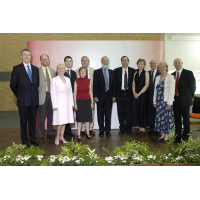 The Chancellor, Sir Christian Bonington, awarded staff prize-winners with their awards for excellence in teaching, research, community work and media and communications at the annual Staff Awards ceremony held this week.
The event held in the Lancaster Leadership Centre was an official presentation and reception for prize winners and their guests.
The Community Prizes were won by Dr Nicholas Race ( Information Systems Services) and Mrs Jane Corless also from ISS. Dr Race has worked on wireless mesh networking technology in the village of Wray, benefiting residents and local businesses. Mrs Corless won her prize for contributions to the College system and the Staff Association. She has been a driving force in maintaining the Staff Association and played a key role in the move of Cartmel College to Alexandra Park.
(Photograph Caption: L - R Vice-Chancellor Professor Paul Wellings, Paul Taylor, Dr Caroline Gatrell, Dr Nick Race, Dr Alison Stone, Joe Thornberry (for Jane Corless), Chancellor, Sir Christian Bonington, Professor Jeffrey Richards, Dr Sarah Barber, Michael Parsons, Professor Mary Rose, Steve Kempster.)
Joint winners of the newly introduced media and communication award were Dr Caroline Gatrell ( Management Development Division) and Professor Jeffrey Richards ( History).
Dr Gatrell, whose book on parenthood and career sparked extensive media coverage and Professor Richards, who has made an outstanding contribution to broadcasting over many years, have succeeded in raising the profile of their departments and the university.
Research prizes went to Dr Alison Stone (IEPPP) and to Dr Caroline Gatrell (MDD). Dr Gatrell's award recognised her pioneering research on the sociology of mothers, fathers and employment and Dr Stone's award was for outstanding early career accomplishments in the field of feminism and continental philosophy, achieved through an impressive body of published work and the award of a Leverhulme Research Fellowship.
Undergraduate Teaching Prizes went to joint winners Professor Mary Rose and Mr Michael Parsons from the Institute for Entrepreneurship and Enterprise Development for an innovative and popular course on Innovation which uses team teaching and on -line teaching journals to deliver research-led teaching.
Dr Sarah Barber from History and Mr Paul Taylor from Accounting and Finance also won undergraduate Teaching Awards. Dr Barber's is for her provision of high quality teaching which stimulates, engages and challenges students. She has also played an important role in the development of pedagogy(study of teaching) in the History Department . Mr Taylor's award is based on a strong record of ug teaching and his ability to engage and enthuse students with technically complex material. My Taylor delivers complex subjects using a variety of teaching methods which encourages deep learning.
Mr Steve Kempster ( MDD) won an award for his postgraduate teaching, in particular for his contribution to the MBA Programme. Feedback shows that his past students draw on the innovative approaches to teaching deployed by Mr Kempster in their working lives, especially when dealing with complex management and leadership problems.