Art Students receive drawings from famous artists
12/17/2003 11:12:15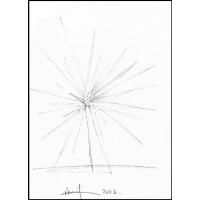 Lancaster University's 3rd Year Art Students have received original drawings from artists Andy Goldsworthy and Antony Gormley.
The drawings have been donated to the students to aid them in their fundraising efforts for their Degree Show in June 2004. The donation from Andy Goldsworthy is a postcard sized pencil drawing, which looks like a study for Icicle Star, as featured on the First Class stamp, and is signed and dated on the front.
Now all the students' fundraising activities are based around a star theme.
Antony Gormley, creator of Angel of the North has also generously donated a work, entitled Starstate, for the students to auction.
The artworks will be auctioned on the 1st March at the University. A quarter of all funds raised will be donated to local Lancaster charity CancerCare.
Anyone wishing to find out more information about the auction should contact the Degree Show co-ordinator Dan Savage by email: d.savage@lancaster.ac.uk. The artworks will be available to view from mid January.