Young Entrepreneurs at Gala Event
05/11/2007 10:04:59
Over a hundred teenagers from seven schools have been running their own social enterprise with the help of Lancaster University students.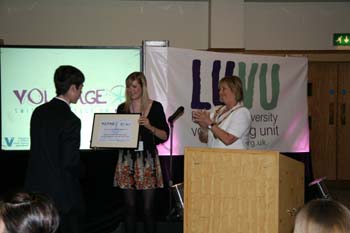 The mayor of Lancaster Councillor Janie Kirkman presenting the prize for the most profitable social enterprise to Queen Elizabeth School
Their hard work culminated in a gala event at the Lancaster House Hotel to reward the best teams for community businesses which ranged from event managing a rock concert to selling T-shirts.
Student volunteers from Lancaster University Volunteering Unit (LUVU) have run sessions to teach the pupils about business plans, marketing, finance, and presentation skills.
LUVU's Voltage project is being run with £80,000 from v, the new youth volunteering charity, to develop social enterprise among young people, with any profits made by the pupils ploughed back into the community.
The schools involved were Blackpool 6th Form College, Blackpool and the Fylde College, Heysham High School, Morecambe High School, Skerton Community College, Carr Hill High School in Kirkham and Queen Elizabeth School in Kirkby Lonsdale.
Together they have raised approximately £3000 for various charities including the North West Air Ambulance, Cancer Research UK and the Loyne School.
Each team gave a presentation on their business and prizes were awarded at the gala event. Queen Elizabeth School took home the most profitable social enterprise award presented by the Mayor of Lancaster Councillor Janie Kirkman.
Blackpool and the Fylde College won the Exceptional Team Award presented by Martha Jennings, the Voltage Project Coordinator, and Blackpool 6th Form College took home both the Exemplary Presentation Award and the award for Most Outstanding Social Enterprise presented by Professor Amanda Chetwynd, Pro Vice Chancellor for Colleges and Student Experience.

Martha Jennings said: "The project has been extremely successful involving approximately 100 young people and giving them the opportunity to think creatively about business, their community and what they could do to change it through their social enterprise. This project has helped all the students involved improve many key transferable skills including their organisational, teamwork, and communication skills."
One pupil commented: "I've learnt so much and had such a great time along the way".