Arts Events
08/25/2006 13:55:53

Lancaster International Concert Series


22 February, 7.30pm

La Serenissima


The Birth of the North Italian Violin Concerto

The virtuoso Baroque band plays music by Francesco Navara, Giovanni Legrenzi, Tomaso Albinoni, Giuseppe Valentini and Antonio Vivaldi.
Mhairi Lawson soprano
Adrian Chandler violin & director


Meet the Artist: 6.45pm
Tickets: £14, £11.50 (£11.50, £9 concessions) young person £5.50
BOX OFFICE: 01524 594151


www.lancasterconcerts.co.uk

Nuffield Theatre Presentations
Athletes of The Heart – Glass Body (Reflecting on Becoming Transparent)
21 – 23 February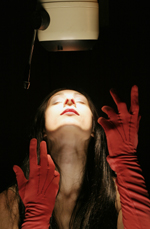 Glass Body
Glass Body is a performance Installation by Anna Furse, made in collaboration with Lucy Baldwyn (video), Graeme Miller (audio) and Marie-Gabrielle Rotie (performance
This provocative event slips between testimony and reflection, emotion and medicine, flesh and technology to contemplate our abiding fascination with what lies under our skin.
In today's culture the screen replaces touch and the naked eye. When it comes to our insides becoming digital spectacles, how do we feel about the sheer thrill of becoming transparent? Scientific and artistic portrayals of the human body overlap throughout anatomical history, with knife, brush and hands all shaping images from dissected corpses. With the invention of the X-ray, for the first time in human history, we could see into the living body.
GLASS BODY plunges the spectator into the depths of obstetrics ultrasound technology to provoke questions about our interior visibility as a lived experience.
Various Times – Contact the Nuffield Theatre Box Office

£5 all tickets, Nuffield Theatre, Lancaster University, Box Office Tel: 01524 594151 (24 hour answerphone), Text: 07810 082832,
Email: boxoffice@nuffieldtheatre.com, Web: www.nuffieldtheatre.com

Peter Scott Gallery Exhibition

JOHN HUBBARD
Main Gallery
15 January – 23 March 2007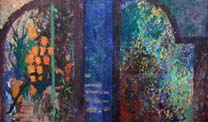 Double courtyard by John Hubbard
An exhibition of works by artist John Hubbard will be on display at the Peter Scott Gallery on Lancaster University campus until 23 March 2007.
The exhibition shows a number of oil paintings and charcoal drawings inspired by courtyard gardens in Spain, including those of the Alhambra Palace in Granada and the Alcazar in Seville. These works reveal enclosed courtyards with richly patterned areas of colour, where organic growth and architecture meet.
In 1996 Hubbard won the Jerwood Prize for painting. He has exhibited widely and has works in many public and private collections, including Lancaster University Art Collection.
Many of the works on display in this exhibition are for sale. A full-colour illustrated catalogue is also available to accompany the show.
The exhibition is sponsored by Ashton Hall Garden Centre in Lancaster.
The Peter Scott Gallery in now open on SATURDAYS during exhibitions
Open during exhibitions: Monday – Saturday, 11am – 4pm & Late Thursday 11am – 9pm, Free Admission, Tel: 01524 593057
www.peterscottgallery.com
Also at the Peter Scott Gallery is an exhibition in the Manton Room entitled Firing Thoughts which explores the relationship between ceramics and drawing. The exhibition is a collaborative project developed between Manchester Metropolitan University's Special Collections and the Peter Scott Gallery and runs until March 23.
The Peter Scott Gallery also hosts an exhibition of works by the artist and poet Anna Adams in the Ceramics Case of the John Chambers Ceramics Room until March 23. The exhibition will feature sculptural ceramics and a selection of preparatory drawings. Open during exhibitions: Monday – Saturday 11am – 4pm & Late Thursday 11am -9pm.
Free Admission Tel: 01524 593057 www.peterscottgallery.com