Farewell to Margaret Gardner after 37 years
08/13/2001 16:22:28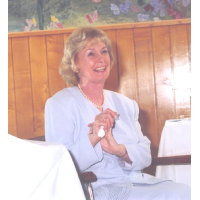 TWO RETIRED VICE-CHANCELLORS WERE AMONGST THE GUESTS AT MARGARET GARDNER'S leaving party on Friday 27th July. Professor Reynolds and Professor Harry Hanham rubbed shoulders with about 150 well wishers in the Senate Room. Current Vice-Chancellor Professor Ritchie gave a speech honouring the 'tough wee lassie's' 37 years at Lancaster.
Margaret wishes to express her sincere gratitude to everyone for making the event such a memorable occasion.
"There were also very many beautiful personal gifts, including flowers, and I hope to write individually to the 'givers' as soon as I possibly can. Cards and letters were also in abundance, and they will also be treasured n a very special place - a drawer in the writing desk! I hope I will be forgiven for the 'wobbly bit' at the close of my speech - I thought when the piper entered that it would be tears for the rest of the afternoon - and it most certainly would have been had he played either 'Flower of Scotland' or 'The Dark Island'! "
The words of the Vice-Chancellor's speech will be a lasting memory - and if you didn't know before, you most certainly know now what MMG was really like - i.e. a mixture of Brave Heart and Super Gran!!
The speech that the Vice-Chancellor gave will be posted on LU News shortly.
For more pictures of Margaret's retirement, click here http://www.lancs.ac.uk/news/mg/.