Inaugural Doug Shepherd Memorial Lecture
04/30/2008 15:56:10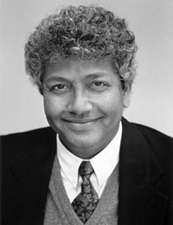 Prof Mahadev Satyanarayana
One of the world's leading experimental computer scientists is to give the inaugural Doug Shepherd Memorial Lecture on May 20th.
Professor Mahadev Satyanarayana, the Carnegie Group Professor of Computer Science at Carnegie Mellon University, has pioneered research into mobile and pervasive computing.

Doug Shepherd
Professor Doug Shepherd, who died in 2006, made an enormous and lasting contribution to Lancaster University in his various leadership roles as Department Head, School Dean, and ISS Director. He made many research connections and friendships, and helped establish Lancaster's international presence in computing.
He was known and respected for his pioneering work in the field of networked and multimedia systems and was the founding Dean of the School of Engineering, Computing and Mathematical Sciences, a role which he combined with that of Director of Information Systems Policy.
In this latter role, the development of the Campus high capacity network infrastructure and the creation of the institution's High Performance Computing capability provided many Lancaster research groupings with the tools needed to help establish their international reputations.
The lecture will focus on Diamond - a new system for data exploration that is likely to be of interest to a wide cross section of the scientific community. Diamond is an open-source software platform for interactive data exploration that has been jointly developed by Intel Research and Carnegie Mellon.
Professor Satyanarayana served for three years as the founding director of Intel Research Pittsburgh, one of four university- affiliated research labs established worldwide by Intel to create disruptive information technologies through its Open Collaborative Research model.
One outcome of his work is the open-source Coda File System, which supports distributed file access in low-bandwidth and intermittent wireless networks through disconnected and bandwidth- adaptive operation. The Coda concepts of hoarding, reintegration and application-specific conflict resolution can be found in the hotsync capability of PDAs today.
Key ideas from Coda have been incorporated by Microsoft into the IntelliMirror component of Windows 2000 and the Cached Exchange Mode of Outlook 2003. Another outcome of his work is Odyssey, a set of open-source operating system extensions that enable mobile applications to adapt to variation in critical resources such as network bandwidth and energy.
Coda and Odyssey are building blocks in Project Aura, a research initiative at Carnegie Mellon to explore distraction-free ubiquitous computing. His most recent work in this area is Internet Suspend/Resume, a hands-free approach to mobile computing that exploits virtual machine technology to liberate personal computing state from hardware.
The lecture will take place on Tuesday 20th May at 16:00 in the Management School LT1 and will be followed by a cheese and wine reception hosted by the Department.
http://www.comp.lancs.ac.uk/department/dougshepherdlecture2008.html