Record number of teaching staff complete professional development courses
07/18/2008 10:44:34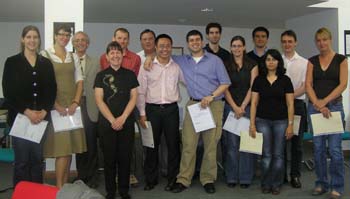 The ATP Programme
A record number of 68 staff from Lancaster University and from Malaysian partner institution Sunway College completed professional development programmes in 2008.
Staff who successfully completed Certificates in Academic Practice (CAP) or Associate Teacher Programme were given their awards by Deputy Vice-Chancellor Professor Bob McKinlay at a ceremony on July15th, who praised the achievement of all those graduating from the programmes.
The courses provide strong cross-disciplinary, as well as departmentally-based, opportunities for discussing, reviewing and developing teaching practice. Opportunities to continue to support and develop this community of practice are a core part of the University's continuing professional development (CPD) framework for teaching and learning.
Recruitment and completion rates for both of these programmes are increasing year on year, which is a measure of the commitment to teaching and learning at Lancaster University.
CAP
Ali Cooper, Director of the CAP programme said that staff are often working full time while taking the courses and their success is "a fantastic achievement with all the competing priorities that participants on the programme have to deal with".
Dr Paul Rodaway, Director of the Centre for the Enhancement of Learning and Teaching who deliver the programmes to staff and postgraduates who teach, said that the external examiners were very impressed with the quality of work produced by participants.
Congratulations are due to the following:
Graduates from FASS
ATP: Dan Ashton (Institute for Cultural Research), Mollie Baxter (Independent Studies / Creative Writing), Paula Bialski (Sociology), Gail Crowther (Sociology), Endre Danyi (Sociology), Michael Dzeamesi (Politics & IR), Maia Galarraga (IPPP), Elisabeth Grindel (Sociology), Candace Hoffman-Hussain (Institute for Women's Studies), Clare Hollowell (Women's Studies), Fred McGlade (History), Misela Mavric (Sociology), Leon Moosavi (Sociology), Julian Muller (Sociology), Jack Nye (Sociology), Steve Pickering (Politics & IR), Sarah Rose (History), Cami Rowe (Politics & IR), Nicola Spurling (Sociology), Basak Tanulku (Sociology), Ebru Thwaites (Sociology) Simon Vaukins (History), Brian Walker (Linguistics & English Language), Becca Westrup (Educational Research), Gemma Wibberley (Sociology / Marketing)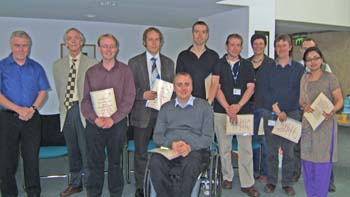 CAP Module 1
CAP: Martin Iddon (Music), Karenza Moore (Applied Social Science), Hager Oueslati (Institute for Cultural Research), James Taylor (History), Leanne Thompson (Educational Research), Joanne Wood (CELT)
CAP Module 1: Charlotte Baker (DELC), April Biccum (Politics & IR), Rosemary Fitzgerald (Music), Nick Pearce (Applied Social Science), Ian Smith (Institute for Health Research)
Graduates from FST
ATP: Rose Gostner (Computing), Lucy Smethurst (Mathematics & Statistics); Klaus Winzer (Biological Sciences)
CAP Module 1: Alessandro Garcia (Computing), Nick Gill (Geography), Jack (Thomas) Jaki (Mathematics & Statistics), Oleg Kolosov (Physics), Ed Parkin (Biological Sciences), Paul Rayson (Computing), Utz Roedig (Computing / Communication Systems), Vlad Stankovic (Communication Systems), Saskia Vermeylen (Geography), Chris Walton (Psychology),
Graduates from LUMS
ATP: Allan Discua Cruz (Inst for Entrepreneurship & Enterprise Development), Marcin Dziubinski (Economics), Yvonne Latham (Organisation, Work & Technology), Viet Nguyen (Economics), Snorri Snorrason (Economics), Sheryl Thompson (Management Science), Gemma Wibberley (Sociology / Marketing)
CAP: Katy Mason (Marketing), Neil Ralph (Management Development Division)
CAP Module 1: Nik Pearson (Management Science), Simon Kelly (Organisation, Work & Technology), Laurie Smith (IEED), Sayjda Talib (Accounting & Finance)
Graduates from the Medical School
CAP Module 1: Dawn Goodwin (Centre for Medical Education / IHR), Howard Lindsay (Centre for Medical Education), Ian Smith (Institute for Health Research)
Graduates from Sunway University College
CAP Module 1: Janet Sau Kuan Cheong, Hsien-Jin Teoh, Marie-Aimee Tourres, Pei Jun Woo, Stanley KongSing Yeow
For more information about CAP or ATP, please go to: http://www.lancs.ac.uk/celt/celtweb/professional_development