Pupils Tour New £20m Sports Centre
01/13/2011 00:00:00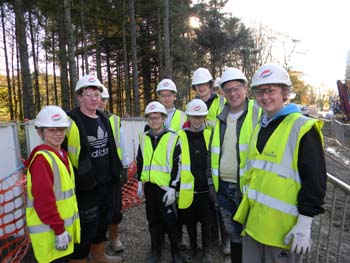 Heysham High School pupils at the sports centre
Pupils from Heysham High School have toured the new £20m sports centre at Lancaster University which will be available to the local community when it opens in May 2011.
Features include:
A 25 metre, 8 lane swimming pool with

moveable floor

A Sports Hall, with capacity for 8 badminton courts

4 glass backed squash courts

A 100+ station gym

A 10 metre high climbing wall with bouldering cave which the Chancellor and distinguished mountaineer Sir Christian Bonington helped to design

A large dance studio and a health suite incorporating sauna and steam rooms.
Under the supervision of Project Manager, Dave Platt, the pupils toured the site as part of their Sport and Active Leisure Diploma and they saw firsthand how sports facilities are constructed.
Pupil Alex Scott said: "'The whole group had lots of fun and got involved. I am definitely sure that I will go there once it is finished and it will be fun for anyone who goes there. I was really impressed.'

Lead Teacher of the diploma course, Amy Leck, said: "It was a fantastic experience for the students to see such work being undertaken to improve the industry. The facility is going to be an outstanding addition to the university and local community. Both myself and the students are looking forward to our return visit to see and use the finished product."
They were also joined on site by the University's Director of Sport Kim Montgomery, who said: "The local community have always been welcomed onto campus to take part in sport alongside the university population and this will continue in the new facilities. It was an honour to engage with the Heysham students in this way as they contributed to the experience with some excellent questions and observations."