Lancaster Student Receives Commendation from Commander in Chief Fleet
06/13/2002 12:05:54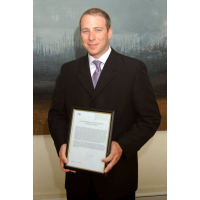 Lancaster University student, Aaron Scholer has been awarded a Royal Navy Commendation for his recent display of bravery. Aaron, a PhD student in the Department of Politics and International Relations, was a passenger on board HMS LANCASTER's Merlin helicopter, observing a data link and Anti Surface Warfare serial in the Baltic Sea. He was quick to offer assistance when the aircraft was re-directed to assist in a Search and Rescue operation.
Although Aaron is not a member of the Royal Navy, the Commander in Chief Fleet, Admiral Sir Alan West KCB DSO, feels his actions are worthy of formal recognition. Aaron was presented his Commendation by the University Vice Chancellor acting on behalf of Admiral Sir Alan West, on Monday 10th June. Sir Patrick Duffy, a former Minister for the Royal Navy stated, "Such a citation to Aaron is unique. No such commendation crossed my desk whilst I was at the Admiralty. Aaron is to be commended on two counts; courage and resolve in a crisis situation and receiving, as a civilian, such a distinguished award from the Royal Navy's Commander in Chief Fleet."
Aaron prepared the aircraft to receive casualties as it approached the scene, providing the crew with significant time in a rapidly deteriorating situation to prepare the rescue equipment. Once on the scene, Aaron formed a physical link between the helicopter Observer and the airframe, allowing the survivor, a German sailor, to be brought to safety. When the unconscious survivor reached the aircraft, Aaron continued to assist with vital primary care and first aid duties under the direction of the crew. He also offered support to the Aircrewman, who was suffering from mild cold water shock.
Aaron stated, "It is an honour and a privilege to be recognised and commended by the Royal Navy's Commander in Chief, Fleet, Admiral Sir Alan West. I accept this commendation with the knowledge that while my actions are being recognised, they were no more special than those of the officers and men with whom I served that day. I will always remember the daring, skill, professionalism, and unerring humility of the men and women of the Royal Navy with whom I responded to a crisis situation that day in the Baltic".