Jack Straw praises Lancaster University
11/17/2006 10:20:55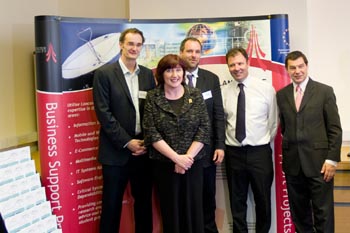 Dr Gerd Kortuem, Geraldine Smith MP, Prof Nigel Davies, the MD of In Touch John Walden, Nigel Griffiths MP.
The Leader of the House of Commons Jack Straw MP has praised Lancaster University for its record of working with business.
He was speaking in the House of Commons on October 26 where he stated that: "The huge increase in developments and in co-operation between universities and business over the past few years, including in Lancashire and by the University of Lancaster, has been impressive."
He was responding to a call for a debate by the Morecambe and Lunesdale MP Geraldine Smith into how to encourage universities to collaborate with local companies.
Along with the Deputy Leader of the House Nigel Griffiths MP, she recently visited ICT firm In-Touch Ltd in Morecambe.
She told the House: "That company is at the cutting edge of technology and works in close collaboration with Lancaster University, which has received substantial sums of money from the Government to encourage it to work with local businesses. That is good and we need to do much more of that."
In Touch Ltd develops mobile data systems for use in the workplace. During the MPs' visit to the firm, computer experts from Lancaster University demonstrated new technology to prevent vibration "white finger" syndrome which affects more than 280,000 people in the UK.
Also known as Hand Arm Vibration Syndrome, "white finger" is an industrial injury triggered by the constant use of vibrating machinery such as pneumatic drills. Symptoms include blanching in response to cold, tingling, pain and numbness.
Dr Gerd Kortuem of the Computing Department, based in InfoLab21, said: "We have developed an electronic system to be used on-site. The vibrating equipment is tagged with a device and so is the user. These automatically measure exposure to vibrations so whenever anyone is using the equipment, the time gets recorded on a daily log. So you can say this person has drilled for 5 hours on one day and we can watch if this is over the regulations so we can detect if someone is above the limit."
The technology has been developed as part of the £1m Nemo project funded by the EPSRC, and is a Health and Safety and R&D initiative between the University, In Touch and Carillion plc.
Senior executives from major international companies were also at the demonstration as part of the opening of In-Touch's new offices in Morecambe.
Prof Nigel Davies of the Computing Department said another field trial is planned following a successful 2 week pilot of the equipment.
"This was the first time that people at a senior level in Carillion and Ringway had seen the project demonstrated. We've worked with In-Touch before and as a thriving hi-tech company in Morecambe, they're committed to innovation and research.
"One of the computing undergraduates has already got a part-time job at In-Touch after doing a project for them."
Dr Kortuem said the project is at an early stage but there had already been a lot of interest.
"We may be ready to develop it commercially, either by the university licensing the technology or the university could start a company to market it so we're exploring these issues."