Lancaster Professor at Qatar Democracy Conference
04/25/2007 12:03:55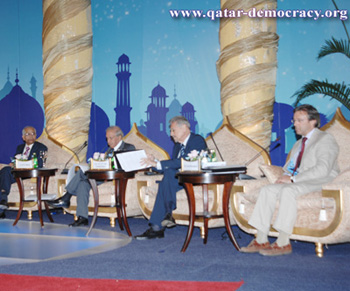 (Far Right) Professor Nonneman on the panel discussion at the Doha Conference
A Lancaster University Professor has taken part in a high-level panel discussion on political reform in the Middle East.
Professor Nonneman of Lancaster University's Department of Politics and International Relations flew to Qatar to attend the Doha Conference on Democracy and Free Trade, also attended by the Amir of Qatar, the new UN Secretary-General, Ban Ki-Moon, and Britain's Leader of the House of Commons, Jack Straw.
He was moderator of the panel discussion on 'Political reform: National Programmes and External Projects'.
Other people on the panel included Professor Emil Constantinescu, the former President of Romania, Dr Clovis Maksoud, a former long-time Arab League ambassador to the UN, Dr Ali Fakhroo, a former Bahraini Minister of Education, Dr Ghassan Salame, a former Lebanese minister of culture, Dr Shabbir Cheema, the head of the UN's Global Forum on Reinventing Government, Dr Abdul Khaleq Abdullah, a professor of politics at the UAE University, and Dr Azmi Bishara, the controversial Arab Israeli member of the Knesset who just resigned.
Professor Nonneman has acted as a consultant to a range of government bodies, organisations and companies, including the Foreign and Commonwealth Office and the European Commission. His research interests include the dynamics and prospects of political reform in the Gulf States.
http://www.lancs.ac.uk/fss/politics/people/nonneman/nonneman.htm
http://www.thepeninsulaqatar.com/Display_news.asp?section=Local_News&subsection=Qatar+News&month=April2007
&file=Local_News200704253163.xml