Sir Liam Donaldson launches new Medical Facility
08/25/2006 13:37:00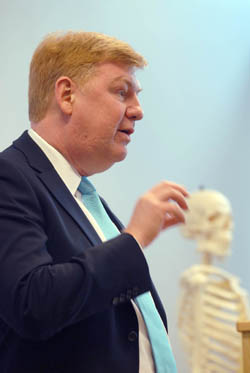 Sir Liam Donaldson
The 'nation's doctor', Sir Liam Donaldson, has launched the new £1.6m Clinical Anatomy Learning Centre at Lancaster University.
Sir Liam is the Government's principal medical adviser on health issues. He advises the Secretary of State for Health, the Prime Minister and other government ministers.
The facility - launched on Friday, February 23 – is being used by the 50 new students who are currently in the first year of their five year medicine degree at Lancaster.
The learning centre, which enables students to study the human body using detailed anatomical models and high-quality DVD screen-based presentations, forms a key part of the University's new Centre for Medical Education.
The launch of a medical degree at Lancaster is part of an expansion of medical education which aims to increase the number of doctors in Lancashire and Cumbria. Evidence shows that medical students are more likely to stay in the area where they studied.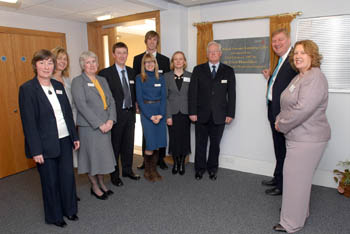 Clinical Anatomy Learning Centre Staff
High-level academic appointments have been made to the Centre of Medical Education, including:
● Director of the Centre for Medical Education Professor Anne Garden, previously Director of Medical Studies, Professor of Medical Education and Head of the School of Medical Education at the University of Liverpool.
● Director of the Clinical Anatomy Learning Centre Professor Colin Ockleford, formerly with the Department of Infection, Immunity and Inflammation at Leicester University Medical School.
The first cohort of students arrived in September where they have been enjoying personalised tuition. Nineteen-year-old Joanne Curran from Northern Ireland said she had been impressed by the friendliness of Lancaster's atmosphere.
She said: "I came to Lancaster to visit the campus and it's a lovely setting, everyone is so friendly and that's really helped me settle in. They've prepared really well for us and it's a new place with the best facilities."
The degree is awarded by the University of Liverpool. The students follow the same curriculum but will complete all their studies at Lancaster and will take up clinical placements across Lancashire and Cumbria. The initiative is the result of collaboration between Lancaster University, the University of Liverpool, UCLAN, St Martin's College and the University Hospitals of Morecambe Bay NHS Trust.
Sir Liam said: "This centre represents the state of the art in medical education. It will help to train a new generation of doctors equipped to provide 21st century healthcare to their patients."
Professor Anne Garden, Director of the Centre for Medical Education at Lancaster University, said: "It is very exciting to be leading medical education provision at Lancaster University and working alongside such talented staff and enthusiastic students. The new Clinical Anatomy Learning Centre will make a tremendous difference to the students, providing them with easy access to top quality learning resources."
Professor Paul Wellings, Vice Chancellor of Lancaster University, said: "We are delighted to play a major part in this initiative in collaboration with the University of Liverpool and NHS Trusts. This is a very important development for the people of Lancashire and Cumbria and for Lancaster University. We will be developing expertise in research and teaching in health and medicine, through the new Department of Medicine, and will use that expertise to train doctors who are then likely to stay in the area."
●For information about medical education at Lancaster University go to http://www.cme.lancs.ac.uk/