Chicago Fellowship for Art Lecturer
05/16/2008 11:38:08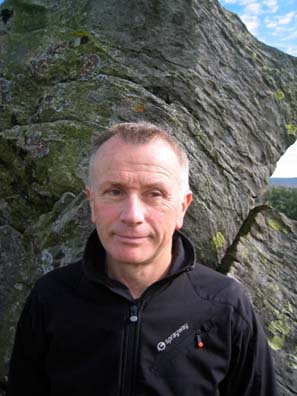 Dr Ian Heywood
A researcher at Lancaster University has been awarded a prestigious Fellowship to attend a school in contemporary art theory in Chicago.
Dr Ian Heywood is one of only 15 scholars worldwide selected from 180 invited applicants for the week-long Stone Summer Theory Institute at the Art Institute of Chicago.
It is an intensive series of mainly closed seminars attended by the Fellows with 6 hours of seminars each day and up to 700 pages of assigned readings. There are also public events including lectures and roundtable discussions. The week will eventually result in a series of books involving over 300 scholars.
Dr Heywood, who is Research Fellow in Art at the Lancaster Institute for the Contemporary Arts, said he was pleased to have been chosen.
"This is a great opportunity to mix with some of the best thinkers in the field and I'm expecting it will kickstart lots of ideas through discussions with all the other participants. I'll get in touch with contemporary thinkers from around the world and it'll be a chance to network."
This year's theme asks the question "what is an image?" Seminars will include histories of concepts such as "image" and "picture" in the West and outside it, histories of the reception (and rejection) of semiotics, and studies of current debates on the nature of visuality and language.
Dr Heywood said: "From drawing to cinema and photography, images are central to art and culture, and yet we rarely think about what an image is. Now our culture is becoming more visually-based with information technology centred around "pictures", the importance of the image is greater than ever before. Think of any major news story and the chances are you can conjure up an image in your mind that you may have seen on TV or online, and which is meant to convey the meaning of the event."
Dr Heywood trained in fine art at Maidstone College of Art, later studying social theory, aesthetics and philosophy at Goldsmiths' College and York University. He taught fine art at Leeds Metropolitan University until becoming Research Fellow in Art at Lancaster. Published works include Social Theories of Art: A Critique, and (with Barry Sandywell) Interpreting Visual Culture: Explorations in the Hermeneutics of the Visual. He has written widely on contemporary art, including essays on Gerhard Richter, and Gilles Deleuze and Francis Bacon, and has recently completed a book on concepts and images of modernity and modern art in the light of 'reflexive' social theory. He is also working on a handbook of visual culture and is known for work in leisure theory. He is currently involved in the Visual Intelligences project at LICA with Prof Nigel Whiteley and Rebecca Fortnum.