Foundation Course Places Provide Skills Boost
04/21/2004 12:58:44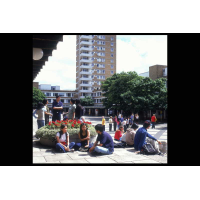 Lancaster University has been awarded hundreds of extra foundation degree places in vocational subjects ranging from criminology to computing.
The 421 new student places – both full and part time – will be made available over the next two years and taught at institutions across Lancashire and Cumbria opening the door to even wider participation in higher education.
The 421 new foundation places - the equivalent of 246 full time places - are set to be awarded in Lancaster University's name and will be made available at Lancaster University and all four of its associated institutions: Blackpool and The Fylde College, Blackpool; Blackburn College, Blackburn; Edge Hill College of Higher Education, Ormskirk, and St Martin's College, which will deliver foundation degrees from both its Lancaster and Carlisle campuses.
Some of the places will also be made available at Knowsley Community College and Hugh Baird College, both on Merseyside.
The new places come in addition to more than 1,000 students already enrolled on Foundation degrees across the Associated Institutions.
Lancaster University will be offering the following foundation degrees:
Teaching and Learning Support (Further Education)
Teaching and Learning Support (Primary)
Public Sector
Criminology
Technology
Network Systems
Working with Young People and Young People's Services
Computing
The new places come as part of a package of 1,024 additional foundation degree places announced by the Department for Education and Skills and are set to be rolled out across the North West over the next two years providing relevant skills to the region's economy.