Chemical research centre appoints director
08/17/2005 10:42:08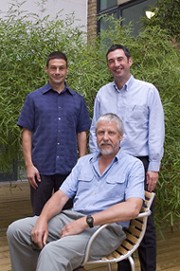 Dr Andy Sweetman, Lancaster University research fellow, Professor Kevin Jones, Director of the Centre for Sustainable Chemical Management, Professor Peter Matthiessen, CEH, Lancaster (seated).
The Lancaster Environment Centre has appointed a director to lead a new centre that aims to protect the environment from harmful chemicals.
The new Interdisciplinary Centre for Sustainable Chemical Management - based in LEC at Lancaster University - will take a holistic approach to chemical management, working with industry to ensure chemicals are tested, manufactured and disposed of more safely.
Professor Kevin Jones, of the University's Environmental Science department, will oversee the development of the new centre over the coming months and direct its work programme following its launch later this year.
It is hoped the ICSCM will ultimately become the leading national centre for chemical management expertise.
The intention of the multi-disciplinary centre is to draw together researchers from the Natural Environment Research Council's Centre for Ecology and Hydrology, which is based in LEC along with people from several different Lancaster University Departments – including Environmental Science, Sociology, Geography and Biology.
ICSCM will carry out cutting-edge scientific research to address a series of issues. These include:
•Procedures to predict and model chemical properties.
•Tracking chemical movement in the environment.
•Assessment of the effects of chemicals on natural systems and target organisms.
•Responsible disposal/destruction/re-use of chemicals.
Professor Jones said: "We are looking forward to working with researchers across the University and CEH. Both Lancaster University and CEH have significant expertise in this area and we want to call upon these experts to contribute to the research agenda."
He added: "As a society, our aim should be to design chemicals from the outset to achieve their purpose, without resulting in harmful effects on the environment or humans. The development of 'green' chemistry and a transparent and effective regulatory framework for existing chemicals will lead to a more sustainable chemical industry that has a sound and defendable scientific basis."
This centre is one of five new Interdisciplinary Research Centres (IRCs) being developed in the Lancaster Environment Centre. The other centres are: The Centre for Sustainable Agriculture; The Centre for Sustainable Energy; The Centre for Sustainable Energy; The Centre for Sustainable Water management.
These centres will address environmental issues of national and international importance by building on current strengths. They will also generate additional interdisciplinary research and training opportunities.