Official Opening of Staff Learning Centre
09/24/2002 16:59:55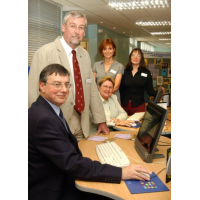 Lancaster University's Pro-Vice-Chancellor Alan Whitaker, officially opened the University's new Staff Learning Centre on Friday 20th September. The Centre is the result of a new and exciting learning partnership between the University and the campus trade unions AUT, Amicus, T&GW and Unison.
The Centre is a modern, comfortable and fully equipped drop-in and open learning workshop. The IT suite gives staff access to the Internet, Email, scanning and other popular computer software. From next month it will become a UK Online learning centre and offer a range of Learndirect courses. Staff are available to give IT support to everyone from complete beginners to advanced learners. There is also support for those staff wishing to improve their literacy and numeracy skills.
Gill Plant, the Centre manager, says "Staff at Lancaster University now have the opportunity to become students themselves. Another positive result has been the training of ten Union Learning Reps who are encouraging staff to return to learning."