Lancaster University's first Ideas Festival
03/03/2006 14:21:11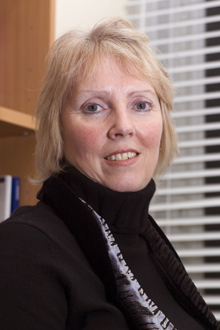 Professor Hazel Biggs one of the speakers at the Lancaster Ideas Festival
Bite-sized bright ideas were on offer at Lancaster University's first Ideas Festival this month.
The one-day event, which was open to students, University Council members and the wider academic community, was an opportunity for Lancaster academics to share aspects of their research on themes ranging from Renaissance drama to nanotechnology.
Over 250 people attended the festival on March 17 at Lancaster University Leadership Centre and a further 130 watched the event on a live web cast with viewers logging on from as far afield as South Carolina. It was chaired by Lancaster University Pro-Chancellor Bryan Gray.
The series of 13 short 15 minute talks incorporated multi-media presentations from across the University faculties and audience members were encouraged to dip in and out of lectures.
Themes were juxtaposed to give people the opportunity to listen to diverse lectures which ranged from presentations on consumer behaviour and care for the dying to communication systems and gambling.
Academic Registrar Marion McClintock, whose office coordinated the event, said it had been well received.
She said: "We ran this event as a pilot to see how it would work, and following the success of the day we think it would be a worthwhile idea to run it again on a similar format. The presentations were excellent; short and diverse, and backed up with very good technical support which added another dimension to the festival."
The talks were as follows:
Pitch in the brain, Christopher J. Plack – Psychology.
The role of the negative self in consumption, Margaret K. Hogg – Marketing.
End of life care - a global issue, David Clark - Institute for Health Research.
Our dynamic Sun and its influence on communication systems, Farideh Honary - Communications Systems.
Can gambling be healthy? Corinne May-Chahal - Applied Social Science.
Accounting, business fundamentals and valuation, John O'Hanlon - Accounting and Finance.
'Magimix': clean water by magnetism, Barbara Maher – Geography.
Matters of life, death and law, Hazel Biggs – Law.
Trends in nanoscience and nanotechnology, Colin Lambert – Physics.
Innovative connections, Mary Rose - Institute for Entrepreneurship and Enterprise Development.
Exact simulation of diffusions: finite representations of infinite dimensional randomness, Gareth Roberts - Mathematics and Statistics.
Playing spaces in Renaissance drama, Alison Findlay - English and Creative Writing.
Belowground communities as drivers of ecosystem process, Richard D. Bardgett – Biology.