Award-winning student takes to the international stage
01/11/2007 09:54:54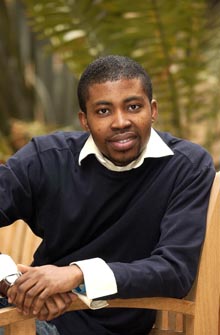 Akanimo Odon
An award-winning Lancaster student aims to create an international network of Nigerian graduates in order to empower his home country.
Akanimo Odon won the British Council International Students Award 2006 and he is now using his talents to create links with the estimated 6,000 Nigerian students in the UK.
He has organised an International Conference of Nigerian Students on campus with speakers including the Lancaster and Wyre MP Ben Wallace, the Nigerian High Commissioner Dr Christopher Kolade and the Chief Executive of Lancaster City Council Mark Cullinan.
Akanimo, who is 26 and studying for a PhD in the Environmental Science Department, said he wants to help young people from Nigeria fulfil their potential.
He said: "Basically the aim is to get the Nigerian diaspora together in an international network so they can make the most of their talents and use their skills towards national development.
"There is a reason for students to go back to Nigeria and we want to provide job opportunities for the delegates who come to the conference so we're asking them to bring their CVs."
The event will include a networking session with poster presentations about the delegates' research, ideas, products or businesses.
The conference will also see the launch of the Nigerian International Students' Agenda (NISA), which aims to promote Nigerian students' ambitions and represent their interests.
Akanimo said: "One of NISA's projects is a web based chat room where the rooms are different academic courses and subject areas. It will act as a medium of career development, job placements and recruitment for Nigerian current and potential graduates and a forum where ideas, proposals and creative skills are displayed online.
"It will also link Nigerian students at home with those in the UK so they know what's going on."
Akanimo won the title of International Student of the Year 2006 at the British Council's annual Shine awards. He has also published a book of poetry, written a novel and acts as a postgraduate ambassador for the University. He aims to open environmental laboratories and residential homes for the elderly when he returns to Nigeria after completing his studies.
He has also co-founded the Xn Foundation, a not-for-profit organisation with projects aimed at Nigerian youth. The projects include First Aid, disability awareness, poetry, youth empowerment, skills training and community development.
The conference takes place in both the Great Hall and Faraday Hall on campus during the weekend of February 3rd and 4th.