EXHIBITION: CUBAN CINEMA POSTERS
01/16/2004 17:13:19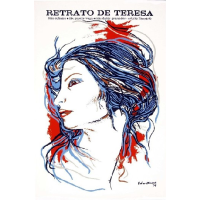 The Department of European Languages and Cultures (DELC) in collaboration with the Cervantes Institute is organising an exhibition of Cuban Cinema posters at the Cervantes Institute in Manchester, running from 15th January until 16th February.
The cinema poster movement in Cuba emerged parallel to the establishment of a national cinematographic industry after the Revolution in 1959. ICAIC (Cuban Institute of Cinematographic Art and Industry) fostered the development of an important graphic movement uniting designers and artists in revolutionising the concept of cinema posters. Using silk-screen prints, ICAIC's posters are more than mere adverts, becoming works of art themselves. This exhibition, curated by Maria López-Abeijón, Teaching Fellow in DELC, shows a range of the most important Cuban cinema posters since their appearance in the 1960s up to the present. It includes works by Eduardo Muñoz Bachs, Antonio Fernández Reboiro, Antonio Saura, Zaida del Río, Servando Cabrera and Julioeloy.
The exhibition will be complemented by a Cuban cinema season in which the following films will be shown:
Thursday 15th January: Lucía (Humberto Solás, 1968).
Thursday 22nd January: Si me comprendieras (Rolando Díaz, 1998 doc.).
Thursday 29th January: Nada (Juan Carlos Cremata, 2001).
Thursday 12th February: Guantanamera (T. Gutiérrez Alea & J. C. Tabío, 1994).
For further information please contact
Instituto Cervantes
326 Deansgate
Manchester M3 4FN
0161 661 4200 cultman@cervantes.es
01524 593006 m.lopez-abeijon@lancaster.ac.uk