Honorary Degree for Distinguished Civil Engineer
12/16/2010 00:00:00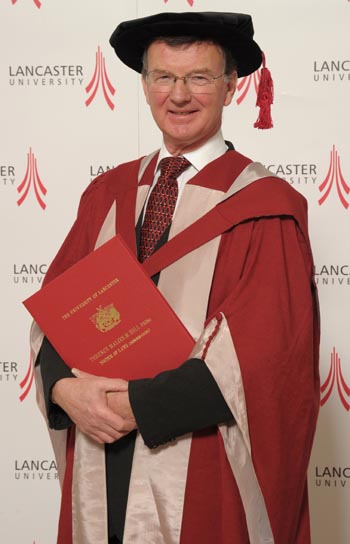 Terry Hill
The distinguished civil engineer and economist Terry Hill FREng has received an honorary degree for his leadership and achievements in the transport sector.
He was presented with an Honorary Doctor of Laws (LLD) at the December graduation ceremony, where over 1,500 students graduated with higher degrees and diplomas accompanied by over 2,500 friends and family.
Since his first job for Skelmersdale Development Corporation, Terry Hill has established an international reputation, particularly for his work in the railway industry.
As Technical director of Union Railways Ltd, he carried much of the responsibility for the design and construction of the £4 billion High Speed Rail Link between the Channel Tunnel and London.
He is currently chair of Arup's global transport business after being Chair of the Group Management Board from 2004 to 2009, leading a firm of more than 10,000 people with clients across the world.
Arup's high-profile projects have included the "bird's nest" Olympic stadium in Beijing and the iconic "Gherkin" skyscraper in the City of London. His other projects have included the 750km Jeddah-Riyadh-Damman Expressway in Saudi Arabia and he was project manager for the World Bank in Botswana on a scheme to build 18 roads totalling 1,000 kms.
He was recently appointed by the UK Government to chair the Infrastructure UK steering group, which will oversee an investigation into ways of reducing the cost of major civil engineering projects. He is also a member of the Engineering and Construction Industry Board of the global think tank, the World Economic Forum.