Dismantling Prejudice Brick By Brick
02/01/2008 10:30:16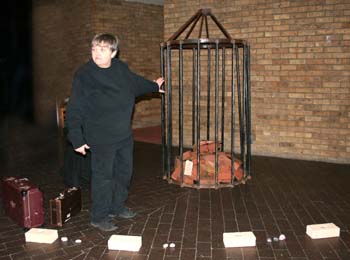 Performance artist Lizzy Hare with the installation at the Chaplaincy Centre
A Lancaster University artist is taking her message of tolerance into the community with a travelling installation.
Conceptual artist Christine Dawson is artist-in-residence at the University's Chaplaincy Centre.
The work is a synthesis of Visual Art and Performance. Christine's Installation is called "Watching Walls" and the performance is by Lizzy Hare, a Professional Performance Artist. Lizzy's work is called "A Place Among the Stones."
Christine said: "Lizzy is a watcher and during the performance she alludes to bricks contained within a cage and asks us all to be watchful of them as they represent the containment, not the end, of evil. In the performance she builds a wall of knitted bricks and warns us that these are not in the cage but very much out in the world. They may look soft and benign but under their soft exterior lies the same aptitude for evil as those in the cage. These need to be watched even more closely than those in the cage."
The work was presented at The Town Hall, Lancaster on Holocaust Memorial Day.
The Audience were asked to participate by answering a question about how they personally would build a society which did not have prejudice, hate, exclusion and intolerance. The answers were put on white labels and tied to the cage. It was also performed at Our Ladies Catholic College and Morecambe High School.
Christine, who graduated from Lancaster in Art Practice and Theory in 2006
Is Artist in Residence at Lancaster University Chaplaincy Centre until the end of March.
She began addressing issues about prejudice with her first exhibition What Makes Me Laugh? and went on to work on Sweet Dreams – a photography and text exhibition depicting the lives and dreams of veiled Muslim women which is on display in the Chaplaincy Centre until the end of her Residency.