First Advisor For Ethnic Minorities
05/02/2008 11:34:17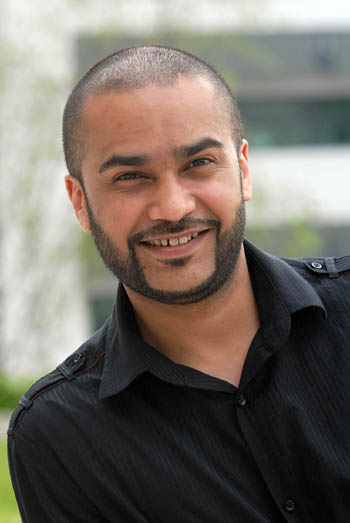 Amran Ghoni
Lancaster University has appointed Amran Ghoni as its first ever Advisor for ethnic minorities students in the region as part of its aim of ensuring as wide and diverse a student body as possible.
Nationally, the numbers of BME students applying to be undergraduates at UK universities is very low, with only 9 per cent of Asian applicants and 6 per cent of Black applicants in 2007 as recorded by UCAS, the application service. Lancaster aims to improve on these figures.
Roger Gould, Director of UK Student Recruitment at the University, said: "When there are about 200 nationalities represented in our student body, it seems plain wrong that our own regional population is under-represented culturally. We're delighted that Amran has joined us to bring about some real change."
Amran Ghoni's job as BME Recruitment Advisor will see him working with communities across the North West to help Lancaster University's student profile become more diverse. Born in Preston, he graduated with a BA in Management from the University of Central Lancashire before working for Preston Borough Council and Hyndburn Council, helping to organise the Asian mela festivals.
He said: "I've spent the last five years working in the local community so I've got the contacts and local knowledge especially in East Lancashire.
"It'll be my job to go out and work in the community, to help everyone understand why Lancaster should be seriously considered. The National Student Survey ranked Lancaster the leading northwest University annually since 2005; the Independent newspaper recently confirmed this and ranked us number 10 in the UK. We've also got one of the safest campuses. People are sometimes surprised to learn we have an Islamic Society and an Asian Society. This is important for parents especially – it's a very safe and friendly campus community, which they are welcome to come and visit. We even run daily buses to the University from across East Lancashire."
Amran has already made plans for students from St Wilfrid's School Blackburn, Burnley Schools Sixth form and Blackburn College onto campus and he will represent Lancaster at a Higher Education Fair at St Mary's College in Blackburn.
Amran's appointment is part of an ongoing initiative to attract BME students, with current undergraduates from BME backgrounds volunteering as BME student ambassadors. They are visiting their previous and other school sixth forms, colleges and HE fairs across the UK, highlighting the benefits of studying at Lancaster. Eight BME Ambassadors have been recruited to work as on-campus tour guides, attend HE conventions and to build partnerships with their old schools, developing and strengthening links to Lancaster with both staff and students.