Residences Project Underway
04/07/2004 11:12:20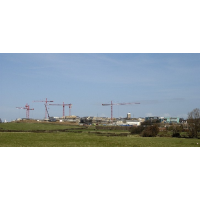 The second phase of the UK's largest student accommodation project at Lancaster University is well underway.
Under the agreement, Jarvis University Partnerships Programme (Jarvis UPP) will build and maintain 3,405 new and replacement rooms for a period of 38 years in a project worth £120m.
The unique project allows the University to retain the contract with the students who occupy the rooms offering a 'seamless service' and to determine the rent levels. The University also provides 'soft services' such as laundry and portering, and importantly, bars and catering. Jarvis will provide the facilities management (FM) services such as grounds maintenance and general site management
Phase one of the project, 402 rooms on the University's South West campus, is complete and students have moved into their new accommodation. This phase has completed the extension of the existing Graduate College.
Phase two consists of 1956 more rooms constructed on the same site, due for completion this year. As part of this phase two colleges, Cartmel and Lonsdale, will move to the site. The colleges will have specially built social space currently under construction complete with bars and cafes. The social facilities for Cartmel will centre around the innovative renovation of a listed farmhouse and barns.
The third phase which will start in July, involves the demolition of accommodation blocks belonging to Fylde, Furness and Cartmel College on the University's main campus and the construction of new blocks on the same site. Jarvis will take possession of the site on July 5th and completion of the new college blocks will be at the end of September 2005.
The new accommodation is necessary to increase student numbers on site, reinvigorate ageing accommodation and allow for the expansion and leisure facilities on campus. The deal addresses the problem of the University's ageing accommodation stock and allows for diversity of room types and rents.
It also improves facilities on SW campus including pedestrianisation of the area.
Student applications to Lancaster has grown steadily across all categories for the past 4 years. This year Lancaster has record numbers of applications and admitted its largest ever intake of first year and postgraduate students, a figure of 4,500.
The increase in student numbers is recognised in the local community as being essential to the city's economic success.