President of the Royal Society opens Lancaster's newest Environmental Centre
05/22/2007 10:22:57
Lord Rees of Ludlow Kt with Sir Christian Bonington CBE
Lord Rees of Ludlow Kt, President of the Royal Society and Astronomer Royal, formally opened the third phase of new build for the Lancaster Environment Centre this week on Tuesday May 22.
The Royal Society is the independent scientific academy of the UK and the Commonwealth dedicated to promoting excellence in science.
Lord Rees delivered a lecture entitled 'A Cosmic Perspective on the Environment,' and discussed the environmental threats of the 21st century and the choices and new technologies needed to meet the challenges.
The £8.4m building provides new office, laboratory and meeting room space for Geography and provides offices, meeting and training rooms for LEC's Enterprise & Business Partnerships Team and offices for companies wishing to locate into LEC or co-locate new activities.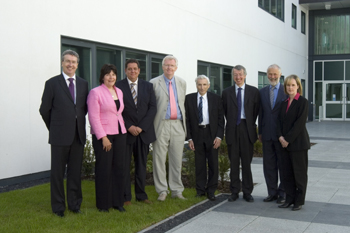 L-R Professor Paul Wellings, Professor Barbara Maher, Dr Mark Bacon, Professor Bill Davies, Lord Rees of Ludlow Kt, Bryan Gray MBE DL, Sir Christian Bonington CBE, Niki Swaffield (ERDF)
External funding for the building came from the Northwest Regional Development Agency (NWDA), the European Union via the European Regional Development Fund (ERDF) and from the University's Science Research Infrastructure Fund allocation (SRIF2).
Lord Rees said: "It is splendid that Lancaster University is extending its existing strengths in environmental science. The challenges of the 21st century demand interdisciplinary science, and effective partnerships between academics, public servants, NGOs and private industry. This development is not only a boost for Lancaster; it is a welcome enhancement in the UK's effectiveness and expertise in subjects that are crucial to the welfare of the developing and the developed world."
Professor Paul Wellings, Vice-Chancellor of Lancaster University, said: "The University's expertise in environmental research spans its lifetime of 40 years. With the opening of LEC three years ago we created one of the largest centres of its kind in Europe which focuses on excellence both in research and training, and I am delighted to see this latest phase of new build which will boost our engagement with enterprise and entrepreneurship in environmental science."
Peter White, Executive Director of Infrastructure and Development at the NWDA, said: "The Lancaster Environment Centre is a beacon for research, teaching and innovation in environmental sciences for the Northwest. Now that the third phase is complete, the centre will increase the University's interactions with business and industry while stimulating economic regeneration locally and regionally. Companies will benefit via collaborations, businesses will work with the University to improve their environmental performance and significant learning opportunities will be afforded to students."
In addition to office space for staff and researchers, the new Geography Department building contains dedicated, cutting-edge laboratory facilities, including the internationally-renowned Centre for Environmental Magnetism and Palaeomagnetism, and facilities for Geographic Information Systems, remote sensing, wet chemistry and palaeo-environmental analysis.
The Department's Tourism Centre is also housed here, and a series of small meeting rooms host the department's undergraduate tutorials. Geography is also the new home for all taught postgraduate students in the core LEC departments. The new building co-locates the department within the Lancaster Environment Centre complex, with the express purpose of enhancing everyday interactions and new collaborations between Geography and its allied LEC departments and NERC's Centre for Ecology and Hydrology, leading to new research opportunities and greater integration of teaching and administrative provision.
The Enterprise & Business Partnerships team in LEC, who develop collaborative relationships with the commercial sector, will be working to deliver economic benefit to the locality and region. Over a five year period 45 companies will be accommodated in the new building, with the aim to safeguard over 140 jobs and create of 30 new jobs in these companies.
The team are also committed to providing assistance to over 300 companies via collaboration, work with over 100 businesses to improve their environmental performance, provide 130 new 'learning opportunities' for students and create seven new businesses
Companies that have already moved or will move into LEC include ADK Environmental Management Ltd., Arid Agritech Ltd., a new company developing agricultural technologies, The Reach Centre Ltd. a technical consultancy providing a full range of services to the chemical industry and Small World Consulting Ltd. who specialise in novel carbon foot printing analysis. There 22 offices available and a target of 15 companies to move into the facility by March 2009.