Arts Events
03/31/2008 10:49:50

PETER SCOTT GALLERY
EXHIBITIONS 28 April – 30 May 2008
Main Gallery
Art of Japan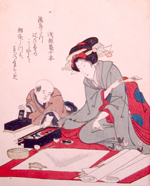 Utagawa Kunisada, Female Artist, c1810-20, surimono woodblock print, Image © Peter Scott Gallery
An exhibition of prints and paintings from the Peter Scott Gallery Trust Collection at LancasterUniversity and on loan from BlackburnMuseum and Art Gallery. Lancaster's international art collection features work by Japanese artists dating from the 17th Century to the 1960s, including Buddhist woodcut prints, surimono prints, scroll paintings and careful studies of the natural world. BlackburnMuseum and ArtGallery holds one of the most comprehensive collections of Japanese prints outside of London. The collection includes landscapes, pictures of famous courtesans, portraits of actors and scenes of everyday life, by masters of the Ukiyo-e school such as Hokusai, Hiroshige and Utamaro.




Manton Room
SANKOFA: CERAMIC TALES FROM AFRICA
An exhibition exploring the ways in which contemporary ceramics in Africa draw on older traditions to shape new directions. Sankofa is a word from the Twi language of West Africa that means 'learning from the past to move forward to the future'. This exhibition has been curated by Moira Vincentelli, Senior Lecturer and Curator of Ceramics at the University of Wales Aberystwyth, in collaboration with ManchesterMuseum, and is based on field trips to Tunisia, Morocco, Ghana and South Africa.
Open Bank Holidays 5 & 26 May
Gallery Open: Monday - Friday 11am-4pm and late Thursday 11am-9pm. The Gallery is located in the Great Hall Complex at the end of the North Spine.
Private View: Thursday 1 May, 7-9pm, opened by Lord Shuttleworth, Lord Lieutenant of Lancashire and Chairman of the Peter Scott Gallery Trust.
PETER SCOTT GALLERY, Lancaster Institute for the Contemporary Arts, Lancaster University, Free Admission Tel: 01524 593057 www.peterscottgallery.com



Nuffield Theatre Presentations



29 April - 30 April 2008 @ 8pm

Gravity and Levity : Shift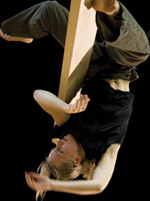 SHIFT
Acclaimed dance company Gravity & Levity return with SHIFT, an innovative production that sees Artistic Director Lindsey Butcher pushing aerial performance into new territory. Contemporary dance, airborne circus and live music collide within a stunning sculptural environment.
Choreographed by Charlotte Vincent, Charles Linehan, Luke Cresswell and Steve McNicholas (STOMP co-creators) together with Gravity & Levity's multi-skilled cast, SHIFT is intimate and eloquent aerial performance that will captivate and delight.
'a classy, unpretentiously high-concept evening. The show raises our consciousness of the dancers' flesh and bones and of our own bodies…' Donald Hutera – The Times
Tickets £8 / £6 concessions, Box Office, 01524 594151 (24 hour answerphone)
07810 082832 (Box office text), boxoffice@nuffieldtheatre.com

**************
8 May @ 8.00pm

DRUTHERS
Performed by Precarious
Following on a five star run at last year's Edinburgh Festival, Precarious, winners of the Total Theatre Wildcard Award 2007 land in Lancaster with their mesmerising show, Druthers.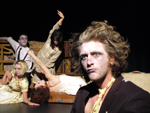 Druthers
Druthers tells the tale of a lonely recluse in a dusty attic, using just his imagination to build a world of his own, populated with extraordinary characters. These characters, emerging infront of him, lead him away on a journey filled with strange happenings and unexpected disturbances. Mixing theatre and technology, Druthers weaves together an unforgettable story that is both touching and surreal.
Precarious' fresh, vibrant and sexy approach to theatre has won them admirers wherever they have performed, and the Nuffield Theatre is delighted to welcome them to Lancaster.
"Utterly unique and endlessly dynamic…beautifully written"
5 Stars Edinburgh Festival Magazine

Tickets £8/£6
For further information on Druthers or the work of the Nuffield Theatre, or if you would like to come to review this performance, please contact: dave@nuffieldtheatre.com, 07974 – 739908, www.nuffieldtheatre.com
Nuffield Theatre, Great Hall Complex, Lancaster University. Tickets £8 / £6, Box Office, 01524 594151 (24 hour answerphone)

Exhibition at the University Library
The Architecture of Lancaster and the Lune Valley – A personal view
An Exhibition at Lancaster University Library
29th February - 26th May 2008
For details of opening times see: http://libweb.lancs.ac.uk/open.htm
or telephone 01524 592517