Sustainable Agriculture centre appoints director
10/21/2005 12:56:23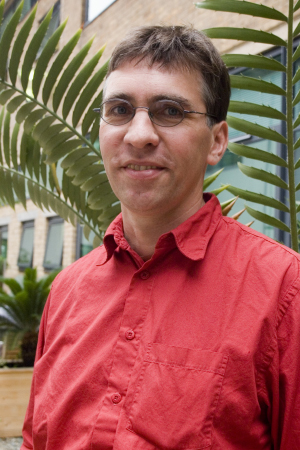 Professor Felix Wackers
Lancaster Environment Centre has appointed a director to its new Centre for Sustainable Agriculture.
Professor Felix Wäckers took up his post at the interdisciplinary centre this month (October).
The Centre aims to couple cutting-edge research with a practical focus in order to address some of the environmental challenges facing agriculture in the 21st century.
It has been set up through a unique collaboration between Lancaster University, the Centre for Ecology and Hydrology and Waitrose supermarkets.
It is the third interdisciplinary centre to launch within LEC this year. The other two are The Centre for Sustainable Chemical Management and The Centre for Sustainable Water Management.
Professor Wäckers, who was born in the Netherlands, specialises in plant-insect interactions and has applied this knowledge to researching biological pest control as an alternative to the use of chemical pesticides. He has also looked into the impact of landscape structure on the agricultural ecosystem.
He has worked at the United States Department of Agriculture and as an assistant Professor at the ETH, Zurich, Switzerland. Most recently he was senior researcher at the Netherlands Institute of Ecology.
The new Centre for Sustainable Agriculture will draw on research expertise across LEC, which is home to one of the largest groups of environmental research scientists in Europe.
Professor Wäckers said: "Agriculture plays a key role in addressing a range of environmental issues. Innovative approaches are being developed to help reduce the emission of nutrients, pesticides or greenhouse gases associated with agricultural production."
"Agriculture can also offer unique solutions to environmental problems, as illustrated by the example of energy crops. Moreover, farming is vital in shaping the environment. Without agriculture, many of the landscapes and species we value would be lost. Given the important contributions that sustainable agriculture can make in a rapidly changing global environment, it is a very exciting field to work in."
He said he was also looking forward to the opportunity to be with a new centre from the early stages of its development.
"I was attracted to this centre because it is embedded within a world-class interdisciplinary research environment and reflects the commitment by the University to bridge innovative fundamental research with its application in agriculture. The Centre for Sustainable Agriculture is ideally positioned to transfer basic knowledge on plant physiology and ecology to applications in crop production."
"I think that it will create many interesting opportunities to work with other scientists in LEC on issues ranging from plant response to pests, diseases, drought, and other stresses to developing agri-environment schemes which optimize combined environmental and agronomical benefits."
The

Centre for Sustainable Agriculture

will form an integrated and interdisciplinary focus for independent research and knowledge transfer in the field of sustainable production of high quality food. A special strength of the centre will be the simultaneous treatment of scientific, social and economic issues surrounding sustainable food production.