Arts Events
01/11/2008 11:44:18

Ruskin Library Exhibition

12 January – 6 April
Sketching from Nature: 'perceptions of the beauty of the natural world'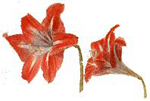 Emily Warren Lillies
The idea for this exhibition has grown from the educational workshops run by the staff of the Ruskin Library for primary school children (seven to eleven year olds). The workshops are loosely based on the theme of the natural world, and aspire to introduce young people to Ruskin and his work and ideas, and to apply his teaching methods in a practical way. We hope to be able to show some work by some of our young visitors along side that of Ruskin's other students.

Ruskin Library open daily, Monday - Saturday 11 - 4, Sunday 1 - 4. Admission free

Nuffield Theatre Presentations

29 January @ 8pm
Neil & Simone / Augusto Corrieri
LIVE ART DOUBLE BILL: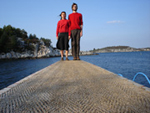 Neil & Simone
A double-bill from young artists emerging on the live art and performance scene.
'Stunningly simple and elegantly surreal.' Total Theatre Magazine (on Quartet)
Tickets £8 / £6, Nuffield Theatre, Lancaster University, LA1 4YW, Tickets: Box Office Tel: 01524 594151
SMS Text: 07810 082832, Email: boxoffice@nuffieldtheatre.com.
Online booking & website: www.nuffieldtheatre.com
******************
12 February @ 8pm
Maresa von Stockert / Tilted Productions
GLACIER
A virtuoso new work of physical dance theatre by award-winning choreographer Maresa von Stockert. Haunting and disturbing, seven outstanding performers dance through a world of ice and snow.
'A great treasure box of delights… thoroughly entertaining, thought-provoking work.' The Stage
Tickets £10 / £7, Nuffield Theatre, Lancaster University, LA1 4YW, Tickets: Box Office Tel: 01524 594151, SMS Text: 07810 082832, Email: boxoffice@nuffieldtheatre.com. Online booking & website: www.nuffieldtheatre.com



Peter Scott Gallery Exhibtions

28 January – 14 March 2008

Joan Miro and the Surrealist Movement

Main Gallery and Manton Room

An exhibition of Miró's 'Constellations' prints will be on display at the Peter Scott Gallery at Lancaster University from 28 January until 14 March. The 'Constellations' series of paintings was created by the Catalan artist Joan Miró (1893-1983) between January 1940 and September 1941, whilst fleeing war-torn France for Palma de Mallorca, and is generally held to be one of his greatest works. These pochoir prints based on the original gouache paintings were produced in 1959 by Pierre Matisse, and are accompanied by poems by the French writer and theorist André Breton (1896-1966), author of the Surrealist Manifesto. The 'Constellations' prints are part of the Peter Scott Gallery Trust Collection at Lancaster University.

On display in the upper gallery is a selection of photographs by Lee Miller and Roland Penrose on loan from Falmouth Art Gallery. An iconic figure, Lee Miller (1907-1977) worked as a fashion model in New York in the 1920's, before becoming a fine art photographer in Paris, and an acclaimed photojournalist and war correspondent during the Second World War. Her life and work were celebrated in a recent exhibition at the Victoria and AlbertMuseum, London. Roland Penrose (1900-1984) was a surrealist painter and poet, and author of many books on the surrealist artists including Joan Miró. He organised the International Surrealist Exhibition of 1936, and was the co-founder of the Institute of Contemporary Arts in London.

****************

Illustrated Lecture: The Legendary Lee Miller

4 March 2008, 7pm, Elizabeth Livingston Lecture Theatre, Lancaster University

An opportunity to hear Anthony Penrose deliver a talk about Lee Miller's stunning photographic work and her fascinating life. Anthony Penrose is the son of Lee Miller and Roland Penrose and author of The Lives of Lee Miller.

£4 per person (Free to Friends of the Gallery and NUS card-holders), Please call 01524 593057 or e-mail galleryenquiries@lancaster.ac.uk for information and to book.

**************************

28 January - 14 March 2008

Royal Lancastrian Pottery

Ceramics Room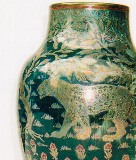 Vase by Richard Joyce, Peter Scott Gallery, Lancaster University
A treasure-trove of lustreware ceramics by Richard Joyce (1873-1931), including recent donations to the Peter Scott Gallery's significant Royal Lancastrian Pottery collection. Joyce had a long career at Pilkington's Tile & Pottery Company, and was noted for his fish and animal designs.
Gallery Open
Mon-Fri 11.00am-4pm
and late
Thurs 11.00am-9.00pm
. Free Admission – Tel: 01524 593057
www.peterscottgallery.com

PETER SCOTT GALLERY, Lancaster Institute for the Contemporary Arts, Lancaster University, LA1 4YW



Lancaster International Concert Series

9 February @ 7.30pm
Larry Goves Four Letter Words (Psappha/SPNM commission)
György Kurtág Signs, Games and Messages
György Kurtág Scenes from a Novel°
György Ligeti Aventures & Nouvelles Aventures *
Nicholas Kok conductor
Maria Husmann soprano ° • Jane Manning soprano * • Jessica Walker mezzo-soprano * • Dean Robinson baritone *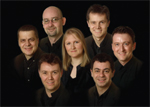 Lancaster Concerts
Music can speak to us as directly as words do. Here are three composers fascinated by how music can mimic, reinforce or alter vocal utterance – how instruments can sing, and how singers can take words into other regions of feeling and time. Now in his 80s, György Kurtág creates fractured miniatures that require singers and instrumentalists to perform at peak intensity: moments of raw emotion and existential doubt that are at once exquisite and vital. The work by his fellow Hungarian György Ligeti is a comic opera without words. Three singers go through a hilarious and touching routine, finding ways to express themselves, and to reach each other, in a language of sound and emotion. The young Manchester-based composer Larry Goves takes up the challenge in his own equally individual way.
Tickets: £10 (no concessions – unreserved seating) £5.50 Young person
Box office: 01524 594151 : Book online at www.lancasterconcerts.co.uk