Forest fire research casts new shadow over the Amazon
04/30/2008 15:53:42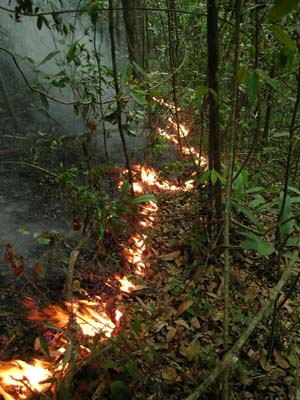 Understorey fire burns a forest reserve in the Brazilian Amazon
Forest fires are even more damaging to the world's most biologically rich ecosystem than was previously thought.
The Amazon Rainforest is the largest most diverse rainforest on earth playing a significant role in the planet's ecology, but new research from LancasterUniversity and the University of East Anglia shows that even small, low-temperature fires trigger a destructive chain of events.
Writing in the journal Philosophical Transactions of the Royal Society B researchers show the resilience of the Amazon rainforest may have been overestimated.
Lead author Dr Jos Barlow - a researcher at LancasterUniversity, and Museu Paraense Emilio Goeldi in Brazil - sampled forests that had burned once, twice and three times in the last 20 years.
They found that after a single, small forest fire up to 40 per cent of trees were lost. These dead trees opened up the forest canopy and added fuel to the forest floor, making it more flammable and increasing the severity of any subsequent fire.
They also found that when a forest burns once, it is much more damaging than previously thought, as each additional fire causes an almost complete turnover in the species composition of regenerating trees.
Dr Barlow of Lancaster University's Department of Biological Sciences said: "When a forest burns for the first time flame heights rarely exceed 30-40cm, and the fire moves slowly through the leaf litter. Although these fires appear relatively innocuous, they are actually very destructive as most rainforest trees have a low tolerance of heat, and their slow speed means that flames stay in contact with trees for long periods of time. As a result, even low-intensity fires kill up to 40 per cent of trees."
He added: "It appears that each fire event alters the seed bank and regeneration conditions and leads to a cascade in species composition, with forests becoming increasingly different from the species rich primary forests they once were."
The picture is particularly troubling given that some models suggest that climate change could make the Amazon both dryer and hotter, increasing the frequency and intensity of extreme drought events and the flammability of enormous areas of forest.
For example the last severe Amazonian droughts, which occurred in 1997-1999 and in 2005, led to widespread forest fires that affected thousands of kilometres of forest.
Dr Barlow concluded : "If our results from the Central Brazilian Amazon are typical of burned forests across Amazonia, then fires linked to human land-use and climate change should be seen one of the greatest threats to the future integrity of the Amazonian Ecosystem."
The work was funded by the Peter Fleming Award of the Royal Geographical Society.