Spring Season At The Nuffield Theatre
01/09/2009 09:42:45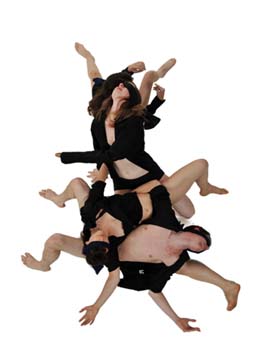 The Candoco dance company
The Spring Season at the Nuffield Theatre features a number of Nuffield commissions and co-productions, including exciting new projects from Sonia Hughes (Weeding Cane) and Swen Steinhauser (Deer Park). The Theatre is also celebrating 20 years of performance company Reckless Sleepers, and in advance of a new Nuffield commissioned work in the next year, is pleased to present one of the best pieces from their back catalogue, The Last Supper.
The Strange Names Collective will be presenting three "comically nightmarish" performances and there is a triple-bill of fresh work from up-and-coming regional artists in the Live Art North West Showcase.
In February, the Nuffield welcomes contemporary dance company Candoco, who bring their renowned integrated disability dance company to Lancaster with a new double-bill from choreographers Hofesh Shechter (whose own company impressed Nuffield audiences last year) and Nigel Charnock.
This season also sees the Nuffield collaborating with colleagues from the Lancaster International Concerts Series in a day-long celebration of the work of composer Steve Reich. Reich has been a major influence on a generation of composers, choreographers and performance makers, and the event includes a fantastic performance of Reich's work from new music ensemble Psappha.
Book your tickets now at www.nuffieldtheatre.com
Full Spring 2009 listings:
THE GRATITUDE OF MONSTERS – The Strange Names Collective
A triptych of comically nightmarish performances challenging ideas of progress and civilization. 'Blurs a line between performance art, stand-up, and theatre.' – Time Out. 8pm, Thursday 29th January £10/£7 concessions
IN TRANSIT 3 – Live Art North West Showcase.
In Transit is a touring project presenting the next generation of boundary pushers working in live art and contemporary theatre in the North West. Featuring: Leentje Van de Cruys - The Best Party Ever (6pm start), Krissi Musiol – Making A Big Deal, Chris Fitzsimmons and Interrupters – Past Indefinite 8pm, Tuesday 3rd February £8 / £6 concessions
SIGHT IS THE SENSE - Tim Etchells & Jim Fletcher
Comical in its apparent naiveté and preposterously encyclopaedic in scope Sight is the sense that dying people tend to lose first explores the absurdity and horror of consciousness as it tries and fails to seize and define everything that it encounters. 8pm, Thursday 5th February £10 / £7 concessions
I MADE YOU A SUBMARINE – Hauser
A multi-layered, surreal and wonderful story that begins with Muhammad Ali as Billy the Kid and ends by the seaside with a lobster, a lost bride, a handsome sailor, Napoleon Bonaparte and the mysterious arrival of a submarine. 8pm, Wednesday 11th February £10 / £7 concessions
'STILL' - NIGEL CHARNOCK / 'THE PERFECT HUMAN' – HOFESH SHECTER – Candoco Dance Company
A dramatic double bill of fierce new work from top choreographers Nigel Charnock and Hofesh Shechter. 'Candoco is the company for which choreographers reserve their wildest and often most inventive work' - Observer 8pm, Thursday 19th February £10 / £7 concessions
STEVE REICH SYMPOSIUM – Lancaster International Concert Series in association with the Nuffield Theatre
A day of concerts and discussions devoted to the work of one of the world's most influential composers living today. 'There's just a handful of living composers who can legitimately claim to have altered the direction of musical history and Steve Reich is one of them.' - The Guardian. 11am, Saturday 21st February £35 day pass / £8 morning concert only / £15 evening concert only
SONG OF SONGS – Weeding Cane
Song of Songs delicately explores the impossibility of love through the lives of the women on stage. At the heart of the show is a circus aerialist whose craft relies on her strength, daring, and her ability to fall. Can the performers apply these skills to their search for love? 8pm, Tuesday 24th and Wednesday 25th February £10 / £7 concessions
THE LAST SUPPER – Reckless Sleepers
Reckless Sleepers invite you to dinner, to sample the last meal requests of the famous and the not so famous, from Marilyn Monroe to Beethoven to prisoners on death row. 8pm, Wednesday 4th – Friday 6th March £10 / £7 concessions