Lyndsey Strikes Gold
11/18/2005 14:25:38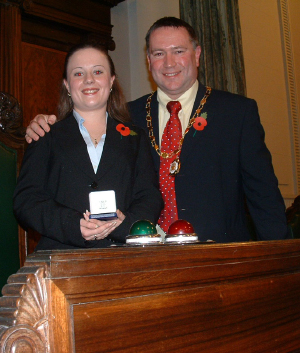 Student volunteer Lyndsey Sterrit and and Vice Chairman of Lancashire County Council, County Councilor Terry Burns.
Student volunteer Lyndsey Sterrit has been awarded one of 2,005 commemorative medals struck by the Royal Mint in celebration of the "Year of the Volunteer". The awards have been presented to the most deserving across the county. Lyndsey has received her award for her work with Lancaster University Volunteering Unit (LUVU) and in particular her involvement in the Unit's IT project - CommIT.
Lyndsey is delighted to have received the award for her contribution and after the awards ceremony on 10th November said:
"I have been working with LUVU for the last three years on lots of fantastic projects. Most recently, I have been involved with the community ICT project, CommIT. The tasks have been really varied, meaning I have been able to gain lots of different skills and experiences. I was part of a team who ran computer workshops for people who do not normally have access to computer classes such as young mums and people recovering from addictions or mental health issues.
Volunteering with LUVU has given me the chance to learn more about people, while feeling my confidence grow with each new experience, challenge and opportunity. To win this award has capped my volunteering perfectly"
The CommIT project helps the many organisations that are not sure how to make the best use of ICT for the benefit of their members. It is common for people to think they need detailed technical knowledge before making decisions and to be confused about what it all can do, simply because they are not familiar with it.

CommIT is a free service that helps community organisations get the most out of their current IT systems as well as develop new ones. Student volunteers assist in many areas of IT, from the creation of newsletters, mail merge and email to the construction of databases and websites.
CommIT has recently reached the final of the Higher Education Active Community Fund awards which take place on Wednesday 7th December 2005.
The Year of the Volunteer
The Government has designated 2005 as the Year of the Volunteer. The Year brings together the main volunteering charities to engage more people as volunteers (particularly disengaged sectors of the population), raise the profile of volunteering and open more opportunities in the public and voluntary sector. Many public services such as the Police, the Health Service, prisons and the Environment Agency are encouraged to welcome volunteers.
The Awards
CSV has commissioned 2,005 medals, which are being awarded to outstanding volunteers across the county to celebrate their contribution to others. The Year of the Volunteer Awards 2005 celebrates and acknowledges the contribution of volunteers in England.
If you would like to know more about Lancaster University Volunteering Unit and the projects they run please contact:
Robert Ellis
Community ICT Developer
Tel: 01524 592266

Email:

r.ellis5@lancaster.ac.uk

Web:

www.luvu.org.uk