Whodunit ?
08/25/2006 14:26:51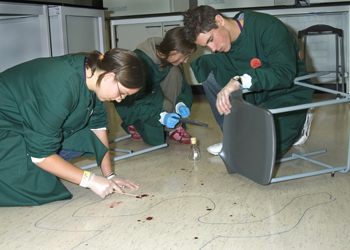 Looking for clues at the "Murder Scene"
Bloody footprints, broken glass and the outline of a body drawn on the floor was the murder scene confronting visitors to a laboratory at Lancaster University this week.

But the police were never called because this crime scene was a carefully contrived "whodunit" staged for the benefit of children on a summer course for gifted pupils. More than a hundred pupils aged from 11 to 16 have spent two weeks taking university courses in everything from music to maths.

Lancaster is the only north-west university to run a summer school for the National Academy for Gifted and Talented Youth (NAGTY), a government initiative to improve provision for schoolchildren in the top five cent of the ability range.
Mary Candler, NAGTY development officer at Lancaster, said: "It's been absolutely brilliant - this is the third year we've run the summer course and it's the best yet."

As part of a forensic science class, the pupils were given the task of working out what had happened to a lab technician whose "body" had already been removed.

PhD student Joanna Heaton, who helped set up the crime scene, said: "They've taken samples of the fake blood on the floor which we've spiked with real DNA from the victim and the suspect.
"They have to analyse this by using real forensic science techniques learned on the summer school. They create a genetic fingerprint on computer for everyone in the room so they can match that against the suspect's and find out who the murderer is – it's actually me!"

Gemma Styles, who is 15 and from Holmes Chapel High School in Cheshire, said she now wants to become a forensic scientist.
"I love it - you never get the opportunity to do anything like this at school. They treat you more like an adult, more like a student."

The pupils had their own ideas about how the murder happened.
Ben Hetherington, who is 12 and from Birkdale High School in Ainsdale, said: "I think the victim suffered a medium trauma to the head and he was dragged along the floor."
Sophie Hurrell, who is 15 and from Essex, said: "It's been a lot of fun trying to find out who did it from blood on a hair found at the scene. I think the technician got pushed and hit with a broken stool."

Dr Christine Shirras from the Department of Biological Sciences said the course aims to give an insight into forensic science."They've been analysing DNA on computer which they just wouldn't have the time or the equipment to do at school, and it's very rewarding to see them so engrossed."