First Honorary Fellowships awarded
05/02/2006 11:54:13
Lancaster University's Chancellor, Sir Christian Bonington CBE DL, conferred the first Honorary Fellowships on six people who have given distinguished service to the University or its region.
Mr Ian Hare, Baroness Ruth Henig CBE, Professor Denis McCaldin, Lady Mary Mumford DCVO and Professor John Whittaker received their awards at a special dinner attended by their families, guests and University representatives held on 20 April 2006 at the Lancaster Leadership Centre.
Mr Malcolm Weisman OBE, was awarded his Honorary Fellowship at a separate private dinner at the Croft on 26 April.
Sir Christian Bonington said: "I have met many individuals who are deeply committed to the University and exert every effort to achieve its objectives. That is why it is a particular pleasure and privilege to confer the first Honorary Fellowships and to celebrate this mark of their achievements."
In future years, two Fellowships will be awarded each year.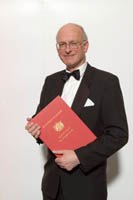 Mr Ian Hare
Mr Ian Hare, University Organist
This Fellowship recognises not only Ian Hare's outstanding career as an organ recitalist, accompanist and composer, but also his contribution to University life. Ian founded and subsequently directed the Lancaster Singers and continues to play the organ for the University's Degree Ceremonies. He is Director of Music at Crosthwaite Church and of the Wigton and Keswick Choral Societies.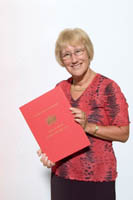 Baroness Ruth Henig CBE DL
Baroness Ruth Henig CBE DL

This Fellowship marks the distinguished contribution Ruth has made to the University's academic development as a respected teacher, scholar and academic leader. It also recognises the wider regional role Ruth has played in local government, especially with regard to the Lancashire Police Authority and the National Association of Police Authorities.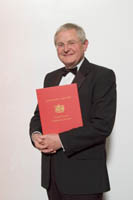 Professor Denis McCaldin

Professor Denis McCaldin
This Fellowship recognises not only the distinguished academic contribution Denis has made since the University's creation, but also the richness which the breadth of his musical interests and involvement has brought to University life. It recognises his Directorship of the Haydn Society, his conducting work with major orchestras both at home and abroad, and the key role he played in shaping the Lancaster Concert Series from its inception.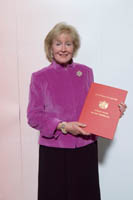 Lady Mary Mumford DCVO
Lady Mary Mumford DCVO
This Fellowship recognises the contribution Lady Mary made to the success of the University's Degree Ceremonies and to Princess Alexandra's visits to Lancaster during her time as Chancellor. Lady Mary used her special quality of warmth and friendliness to make all the events she attended special for University staff and for graduands and their families.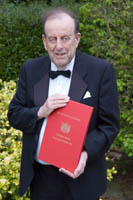 Mr Malcolm Weisman OBE
Mr Malcolm Weisman OBE
Malcolm has made a major contribution to the religious life of this and other British Universities. He played a pioneering role in the creation of Lancaster University's multi-faith Chaplaincy Centre, not least through the energy he put into fund-raising for it. The Fellowship also recognises Malcolm's work with Jewish members of the armed forces and his promotion of inter-faith understanding.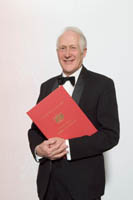 Professor John Whittaker
Professor John Whittaker
Whilst recognising his distinguished academic contribution to the University, this Fellowship also recognises the broader contribution John Whittaker made through his other interests. He chaired the Peter Scott Gallery, helping to establish the Peter Scott Gallery Trust. John also chaired the University Library Committee for many years, was active in College life and contributed to the work of the Centre for North West Regional Studies.