Lancaster University Scientist swaps jobs with Local MP
01/29/2003 09:35:55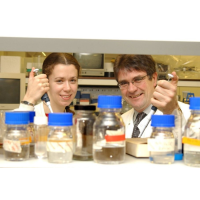 Lancaster University scientist Nicola Evans and MP Hilton Dawson gained useful insights into each other's jobs when they took part in the Royal Society Scientist/MP pairing scheme. The scheme aims to get MPs to understand science better and scientists to understand what goes into policy making.
Dr Evans spent four days at Westminster with Hilton Dawson and at seminars organised by the Royal Society with representatives from the House of Commons and Lords Science and Technology Select Committee's, representatives from the House of Commons Library and members of the Hansard Society. She listened to Prime-Minister's question time and the budget statement given by Gordon Brown.
At Lancaster University Hilton Dawson took part in an experiment where a weed, modified with jelly fish protein, was "excited" into giving off light. They used a genetically modified plant (a weed called Arabidopsis thaliana), which contains a jelly fish gene and produces a protein which glows (gives off light) when it binds to calcium. They then "excited" the plant (causing it to elevate its internal calcium levels) by fumigating it with ozone, a major pollutant in cities worldwide.
He said: "It was incredible to find out some of the complexities of plants and how they respond to outside influences."
He also met scientists involved in Alzheimer's research and Plant Sciences for Industry.