First Ever Art Show at LICA
06/15/2007 11:27:24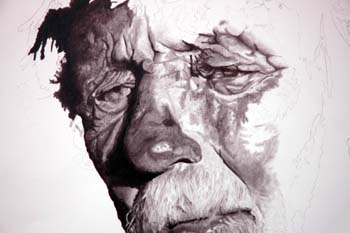 Jean-Paul Lebon, Untitled, pencil on paper © the artist
The first ever BA Fine Art show at the Lancaster Institute for the Contemporary Arts (LICA) is being held this month at the Peter Scott Gallery.
The exhibition shows the work of final year Fine Art degree students from the Art Section of LICA.
Art tutor Gerry Davies said: "There's never been an art show as ambitious, as complex as this one because students have grasped the ethos of LICA which is interdisciplinary. We're seeing more artwork like video, sound, performance events and film and students have risen to the challenge."
The exhibition is titled Going Open Kimono, a term used in business circles, which refers to the revealing of private information to the public as the students undergo the transition to practising artists.
Student Helen Statham said her installation with melting ice and amplified sound would not have been possible without LICA.
She said: "It's been brilliant because it's made things possible like working with technicians at the Nuffield so I can get help from people from different disciplines."
She now has a lifetime contract to exhibit at the Biscuit Factory gallery in Newcastle and plans to become a professional artist.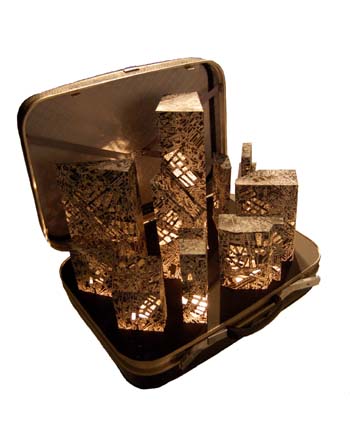 Matthew Cross, Untitled, mixed media © the artist
Matthew Cross's work is a sculpture of a suitcase with buildings inside, created to reflect the temporary nature of the urban environment.
He said: "I'd like to go into arts management and I've already applied for an internship at the New York Museum of Modern Art."
Jean-Paul Lebon said his paintings were to be taken off the wall and made into a light installation.
He said: "It's about challenging perceptions which is why I've also created a homeless shelter in the studios constructed from circuit boards which light up."
Mature student Kath McDonald from Lancaster began the course after taking art courses at the city's Adult College. She said the course had developed her abilities to the point where she is to exhibit at Leicester City Art Gallery this summer.
"I never thought I was good at art but this course has challenged me and made me think about what I'm doing and why so I've got a lot out of it."
Zoe Foster's artwork uses 50kg of chocolate to create a half melting sculpture based on buildings and trees.
She said: "I used chocolate because of the smell and the allure and because I wanted it to appeal to people on different levels."
LICA houses Lancaster's programmes in Art, Music and Theatre Studies. The new Institute has a commitment to the contemporary and to critical thinking around the arts.
Admission is free and the exhibition is open 20-27 June: Mon – Sat 11am-4pm & late Thurs 11am-9pm.
http://www.lancs.ac.uk/depts/art/StudentShows/UG_2007/index.html