Lancashire Higher Education Convention
04/24/2002 10:17:22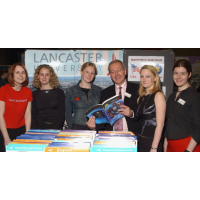 Over 6500 sixth-form students from schools and colleges in Lancashire and Cumbria were welcomed onto campus for the annual Lancashire Higher Education Convention on the 18th and 19th April.
The Great Hall and Nuffield Theatre were filled with exhibition stands from 115 UK universities and related organisations such as the Teacher Training Agency for the event. The convention was organised by the careers service Connexions in conjunction with the Schools and Colleges Liaison Office, Lancaster University and sponsored by UCAS and the Guardian.
Higher Education Conventions such as the event held at Lancaster University form an important part of the university application procedure for prospective students. The Year 12 students who
attended the convention will be applying to UCAS during autumn 2002, taking their A2 exams in June 2003 and will begin their chosen university course in September/October 2003.
The students were able to talk to representatives from different universities about the courses on offer, and attend seminars on gap years, study abroad programmes, accommodation and
finance, subjects and career paths, and student life.
Most of them went home with as many university prospectuses as they could carry, and with a much clearer picture of what and where they wanted to study and the exciting opportunities available to them.