Third plc moves in to Lancaster Environment Centre
12/12/2007 11:49:20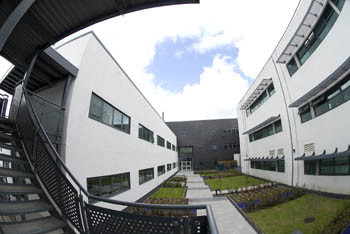 Lancaster Environment Centre
A company offering green energy solutions to home owners has become the third public limited company to move into the Lancaster Environment Centre (LEC).
Energi Holdings plc, marketer and installer of energy-generating solar panels and wind turbine systems, has set up shop in the recently-opened office space dedicated to use by companies working in partnership with LEC at Lancaster University.
Energi joins Plant Impact plc, a developer and marketer of safe agrochemicals, and the Water Environment division of Mouchel Group plc, a multi-disciplinary support services organisation.
All three companies are investigating new project partnership opportunities with LEC. These partnerships bring together the expertise of research scientists with the commercial experience of the companies. They are expected to yield new business opportunities for the businesses to take forward.
The three plcs join another twelve companies that have also moved in to the centre since its opening in May 2007. These companies are from across LEC's research themes of energy, agriculture, water, environmental informatics and chemicals.
Most of these companies are already engaged in technical projects with academic staff, ranging from student projects to fully financed research partnerships. In most cases these projects will help the companies expand through new product development.
For example, LEC-based company Small World Consulting Limited is working with the centre's energy researchers, engineers and sociologists on development of new carbon footprinting tools.
Mark Dickinson, Managing Director of Energi plc, said: "We see this as an opportunity to build strong links with researchers at the forefront of sustainable energy. These will help strengthen Energi plc's position as a leading renewable energy supplier and installer."
David Marks, Technical Director of Plant Impact plc, said: "Our existing research partnership with LEC is advancing our understanding of how crops respond to stresses. This understanding will help us to develop another generation of products. Now our technical staff are based at LEC we will be able to achieve much more."
A full list of companies resident in LEC can be found at www.lec.lancs.ac.uk/ebp/companies