IAS First International Conference
06/21/2006 09:57:29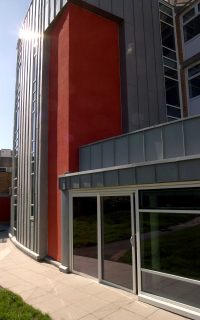 Institute for Advanced Studies, Lancaster University.
Lancaster University's Institute for Advanced Studies IAS will be holding its first International Conference on campus from 31 August-2 September 2006.
The Conference builds on the first annual research programme, which is coming to its close, and will explore the nature and future of the knowledge-based economy from a variety of cross-cutting disciplinary and interdisciplinary perspectives.
Topics include innovation, including bioeconomy and nanotechnology; knowledge-based organisations and their management; the creative industries; intellectual property; mobilities in a knowledge-based economy; regional development; and consumption.
The IAS was opened in 2005 and is a flagship for interdisciplinary research in the Faculty of Arts and Social Sciences and the Management School.
The £3.5 million building was designed to create communal research areas, offices and conference facilities for academics giving them much needed time and space for new ideas and interdisciplinary research.
James Wilsdon, Head of Science and Innovation at the think-tank Demos and recently appointed Senior Research Fellow at the Institute will be a key note speaker with Professor Bob Jessop, Director of IAS. Other invited speakers include Professor Robert Boyer, CEPREMAP, Dr Cathy Garner, Manchester Knowledge Capital, Professor Michael Hulme, Centre for the Study of Media and Culture and Professor Paul Thompson, Human Resource Management, Strathclyde University
Lancaster University has an outstanding track record of research into the social dimensions of science and technology and a reputation for creative engagement with government and public policy.
For more information on the conference or to submit a paper see http://www.lancs.ac.uk/ias/conference/