High Drama At The Nuffield Theatre
02/13/2009 12:09:17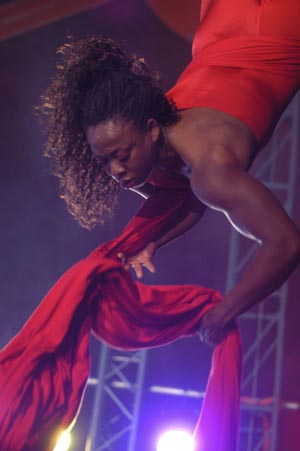 Vicki Amedume
SONG OF SONGS by Weeding Cane
Tuesday 24th & Wednesday 25th February 8pm – £10 / £7 concessions
The Nuffield Theatre hosts a brilliant new production from rising stars Weeding Cane with their breathtaking aerial and circus skills. This follows on from last year's sold out performances by Gravity & Levity and Okham's Razor whose aerial virtuosity enthralled audiences.
Song of Songs by Weeding Cane is written by Sonia Hughes, who also wrote the Quarantine production Susan & Darren – another Nuffield audience favourite. Song of Songs is a delicate exploration of the impossibility of love. It features circus aerialist Vicki Amedume, who has worked on the opening ceremonies for Liverpool City of Culture and the Lord of the Rings at the Theatre Royal Drury Lane and whose craft relies on her strength, daring and her ability to fall. Can the show's other performers apply these skills to their search for love?
With an all-quality cast, including Juliet Ellis (Coronation Street, Holby City, Clocking Off), super chic 80s singer Carmel McCourt and up and coming actress Lowrie Evans, Song of Songs is an arresting mix of circus, theatre and dance in a show which promises a great soundtrack, a few dance routines and some intimate, messy stories all about love.
Ladies! You are invited to a pre-show girls' night-in, involving chatting and fairy cakes. Participants will form the chorus for that night's show. Free to ticket holders but must be booked in advance as places limited. Absolutely no performance experience necessary. Contact box office for details.