Tony Vernon Foundation Donation
02/22/2007 10:16:15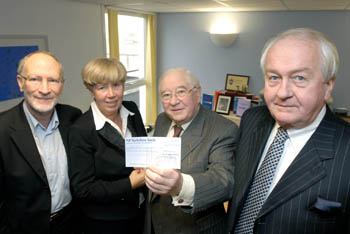 L-R: Professor Cary Cooper, Professor Sue Cox with Tony Vernon Foundation Trustees Lord Wade of Chorlton and Bob Corfield.
Graduates of Lancaster University Management School will be able to apply for travel grants of up to £2,000 thanks to a generous £36,000 donation from the Tony Vernon Foundation.
Tony Vernon was a leading international food trader who, during his life time, established himself as a leading operator in his field and had an international profile.
The Foundation was set up following Mr Vernon's death in March 2005 in order to continue his work encouraging young people to become involved with international trade. All donations to the Foundation were made by business men and women working in international food trade.
The cheque was presented to Lancaster University Management School Dean Professor Sue Cox by Foundation Trustee Lord Wade of Chorlton.
Grants of between £500 and £2,000 will be available to LUMS postgraduate students who are interested in pursuing a career in international trade and priority will be given to those students interested in food trade. The grants will enable them to travel, attend exhibitions and conferences and to give them the opportunity to meet important contacts world wide.
Professor Cox said: "We are delighted that the Tony Vernon Foundation has chosen to assist Lancaster University Management School postgraduates in this way. This generous gift will enable many students to gain the practical support they need in order to make the most of the opportunities which are presented to them at an important stage in their career."
Professor Cary Cooper, Pro Vice Chancellor for External Affairs at Lancaster University, said: "Tony Vernon was a leading businessman in the North West who wanted to encourage young people to enter international trade. This donation will support MBA and other Management School Masters students by assisting them to travel internationally to expand business opportunities in the developed and developing world. This is a very fitting legacy."